Celebrity Cruise Introduces Newest Ship Class with Celebrity Cruises Mobile Cinema
at Sonoma International Film Festival
Pop-up mobile theater offers first glimpse of Celebrity's newest, revolutionary ship class

SAN FRANCISCO, CA – March 27, 2017 – Modern luxury cruise brand Celebrity Cruises is bringing Celebrity Cruises Mobile Cinema to the upcoming 20th Annual Sonoma International Film Festival, held March 29 – April 2, 2017, of which Celebrity is a premiere sponsor. SIFF is the Celebrity Cruises Mobile Cinema's first stop in its North America Celebrity Cruises Leading EdgeSM Tour, offering exclusive previews of Celebrity's newest EdgeSM class ships. Following SIFF, the mobile cinema will stop in Concord at AAA Travel on April 4th and 5th, and at the Stonestown Galleria in San Francisco on Thursday, April 6th, before heading to Southern California.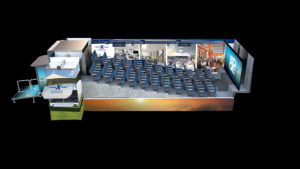 The Celebrity Cruises Mobile Cinema is a pop-up mobile theater featuring a high definition projector and sound system, where guests can enjoy beverages, wine, truffle popcorn, and participate in enter-to-wins for great prizes, such as a luxurious cruise to the Caribbean for two. Celebrity Cruises will be sponsoring two films at SIFF, Money and Goddesses of Food, of which Goddesses of Food will be making its United States premier inside Celebrity Cruises Mobile Cinema at noon on Friday March 31st, and Sunday, April 2nd. Money will screen on Friday, March 31st at 4:45 PM at Vets Hall. The Celebrity Cruises Mobile Cinema will also be a full-time venue throughout SIFF, including the World Premiere screenings of The Other Side of the Dirt and Veracruz.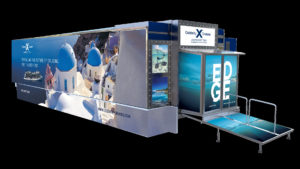 Prior to the screenings of Goddesses of Food, Celebrity Cruises Mobile Cinema will screen a special preview of the Celebrity EdgeSM. The EdgeSM class is Celebrity's first new ship class in almost a decade and promises transformational, forward-thinking design, as a revolutionary new ship designed to leave the future behind. The first EdgeSM class ship, Celebrity Edge, is currently open for bookings with an expected delivery of Fall 2018, followed by Celebrity Beyond in Spring 2020, and the third and fourth ships in Fall 2021 and Fall 2022 respectively.
"We are thrilled to partner again with SIFF for their 20th Anniversary and premier our Celebrity Cruises Leading EdgeSM Mobile Cinema. Guests will be welcomed in modern luxury style on our red carpet complete with wine, truffle popcorn and beverages, plus an innovative, cinematic experience once inside our mobile theater," said Scott Clifton, Director, Market Sales, Celebrity Cruises. "This is a perfect opportunity to introduce and share our newest ship – Celebrity Edge, a revolutionary new ship designed to leave the future behind."
For more information about the upcoming Celebrity EdgeSM or to book a trip with Celebrity Cruise, travelers can visit www.celebritycruises.com, call 1-800-437-3111, or contact a travel agent.
###
About Celebrity Cruises
Celebrity Cruises' iconic "x" is the mark of modern luxury, with its cool, contemporary design and warm spaces; dining experiences where the design of the venues is as important as the cuisine; and the amazing service that only Celebrity can provide, all created to provide an unmatchable experience for vacationers' precious time. Celebrity Cruises' 10 ships offer modern luxury vacations visiting all seven continents. Celebrity also presents immersive cruisetour experiences in Alaska and Canada. Celebrity is one of six cruise brands operated by global cruise vacation company Royal Caribbean Cruises Ltd. (NYSE,OSE: RCL). For more information, dial 1-800-437-3111, or call your travel agent.
About SIFF:
The Sonoma International Film Festival is presented by the Sonoma Valley Film Society, a 501©3 dedicated to promoting independent film, supporting filmmakers around the world, and inspiring film lovers. Most films screened at the festival have attending filmmakers and actors, making for spirited Q&As. This unique five-day event offers world-class cuisine from local artisans and exceptional wines from Sonoma vintners. Renowned filmmakers, industry leaders, and celebrities such as Bruce Willis, Susan Sarandon, Robin Williams, Danny Glover, Demian Bichir, and Mary-Louise Parker have walked the festival red carpet and enjoyed its intimate ambiance.
###
—
Audrey Yung
| 
ASSOCIATE ACCOUNT AND PROJECT MANAGER 
O • 415.221.2875  |  C • 650.387.1326