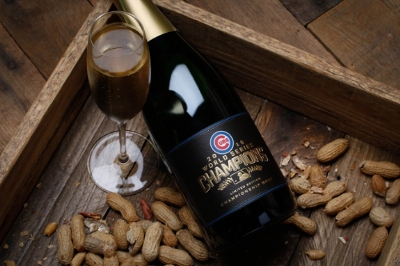 HEALDSBURG, Calif., Nov. 11, 2016 /PRNewswire/ — To celebrate the Chicago Cubs' historic first World Series championship since 1908, Wine by Design, the exclusive wine licensee of Major League Baseball, is delivering a limited-edition World Series Championship Brut with Rack & Riddle.  Rack & Riddle, one of the largest custom wine operations nationwide specializing in sparkling wine, has created the Cubs World Series sparkling wine. Wine is available online and at select retail outlets. For more information, visit mlb.com/wine.
"Wine by Design has been celebrating World Series champions since 2012 and we've had the pleasure of working with Rack and Riddle since 2013," said Diane Karle, CEO, WBD. "We are fortunate to have a great partner in MLB and have found an amazing wine-making team, specializing in sparkling wine from one of the most prestigious winemaking regions in California."
The San Francisco Giants (2012 & 2014), Boston Red Sox (2013) and Kansas City Royals (2015) all played their way into history with their recent World Series titles, but this year's Cubs team made its own special mark, winning the title for the first time in over 100 years. That makes this championship wine truly historic as well.
"This wine is truly worthy of champions like the Cubs, with fine bubbles forming a perfect mousse, aromas of brioche and spiced apple, and nuances of lime zest that linger—begging for another sip or two," said Rack & Riddle Executive Director of Winemaking, Penny Gadd-Coster. "The beauty of a well-balanced Brut like this is it pairs well with a variety of foods – like World Series-worthy snacks of Nachos and Spicy Wings! It's perfect for drinking now, and ages well so you can celebrate with bubbly for months to come."
The Cubs Championship Brut was crafted in the labor-intensive méthode Champenoise tradition, and showcases premium grapes from California.
ABOUT RACK & RIDDLE CUSTOM WINE SERVICES:
With its expansion in 2014 to two new locations in Sonoma County, Rack & Riddle is proudly committed to providing pristine facilities where winemakers craft both still and sparkling wines. Rack & Riddle offers complete grape-to-bottle, base-to-bottle, and private label wine programs, and houses nearly 2 million gallons of stainless steel storage and fermentation vessels. An exceptional winemaking team produces 1.2 million cases of wine annually. For more information, visit www.rackandriddle.com.
ABOUT WINE BY DESIGN:
Wine by Design (WBD) is a marketing and management agency, and the leader in delivering wine-based strategic services and premium wine solutions. WBD provides tailored brand experiences, limited wine releases, events and consulting. Founded by Diane Karle, WBD has offices in New York and Napa Valley. WBD has cultivated a network of wine experts, suppliers and grape growers, which results in targeted business solutions.  Visit winebydesignco.com to learn more.
MEDIA CONTACT:
Cynthia Faust – Rack & Riddle
707-433-8400 ext. 108
Photo – http://photos.prnewswire.com/prnh/20161110/438164
SOURCE Rack & Riddle Custom Wine Services
RELATED LINKS
http://www.rackandriddle.com