KDM Global Partners, LLC ("KDM"), a Philadelphia-based winemaker and custom label specialist, has announced its agreement with Macy's to produce a new line of private label wines to be sold in select stores and restaurants.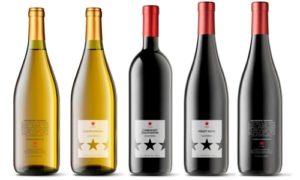 The new Macy's wine brand, all selections from California, will feature three (3) wine varietals: a Chardonnay, a Cabernet Sauvignon and a Pinot Noir.
KDM has spearheaded the overall effort on Macy's behalf. "Macy's will have three wonderful, beautifully-packaged wines to offer its guests. This flagship wine brand will create additional exposure for and loyalty to the Macy's wine category among its customers – enhancing the overall Macy's experience," said Jonathan Gelula, KDM's President. "As always, private label wines are great for a retailer's store margins and category bottom lines."
According to Warren Wolfe, Group Vice President of Macy's Foods: "Macy's Foods is pleased to partner with KDM Global to present select exclusive wines to our customers in both our restaurants and wine shops. We've been working with Jonathan Gelula at KDM for many years and are excited to introduce our customers to three outstanding wines that pair beautifully with our iconic menu items. Dining at Macy's will be enhanced for our customers when they choose one of our new Macy's Select wines, available beginning this Fall."
This is the third private label program launched by KDM Global Partners on Macy's behalf ….initially under the Marshall Fields banner and again for Macy's in 2007.
About KDMGlobal Partners, LLC:
KDM Global Partners, LLC produces custom label wines for retail chains, restaurants, hotel/resorts, events and other existing brand owners. KDM can assist with all aspects of the wine brand creation process, including packaging, regulatory/compliance and distribution. Imported and domestic, all price points, varietals and blends. In addition to bricks-and-mortar distribution in stores, restaurants, and at events, KDM can now facilitate Direct-to-Consumer sales and fulfillment for its wine brands through an ecommerce component, an additional, important branding opportunity and revenue source for all wine sales. More information …visit www.KDMGlobalPartners.com or info@KDMGlobalPartners.com.
SOURCE KDM Global Partners, LLC
RELATED LINKS
http://www.KDMGlobalPartners.com