Crimson Wine Group (OTCBB: CWGL), which specializes in handcrafted, estate-grown wines originating from the highest quality winegrowing regions in the United States, today announced the grand opening of The Estates Wine Room, an urban tasting room located in Seattle'shistoric Pioneer Square.  Opening to the public this Friday, December 11, The Estates Wine Room will focus on wines from Crimson's Northwest holdings – Double Canyon (Horse Heaven Hills, Washington) and Archery Summit (Willamette Valley, Oregon).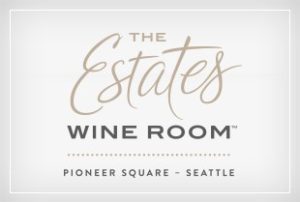 Designed to bring a unique winery-style tasting experience to downtown Seattle, the 1,800-square-foot establishment will provide a contemporary and engaging setting for guests to enjoy wines from the company's Pacific Northwest portfolio alongside food and other featured wine offerings.  The space includes a standing tasting bar, table seating, a wine retail area and a private tasting room. The room is anchored by a large-scale lenticular photography installation, which depicts vineyards from both Double Canyon and Archery Summit to visually capture the essence of these two winegrowing regions. An outdoor seated tasting area is slated to open in spring of 2016.
"The Estates Wine Room was created to capture the heart and soul of our Northwest estate properties and bring a variety of tasting experiences to guests," said President and CEO Patrick DeLong.  "Seattle is a thriving city and we're elated to join the revitalized Pioneer Square neighborhood."
The Estates Wine Room will offer tasting flights alongside wines by-the-glass and a selection of bottles that guests may enjoy onsite or purchase to bring home. A rotating selection of small plates will be offered from local neighborhood food purveyors.
Pioneer Square is a central city location and transit hub located along the waterfront in the southern part of downtown Seattle.  The historic district is quickly becoming one of Seattle's most popular destinations for foodies and visitors. The neighborhood features a range of notable restaurants, luxury boutiques and food purveyors, and is also home to the nation's first established art walk, which takes place on the first Thursday of each month.
Located at 307 Occidental Ave South in downtown Seattle, The Estates Wine Room will be open daily from 10 a.m. to 7 p.m. For more info, please visit www.estateswineroom.com
About Crimson Wine Group
Based in the Napa Valley, Crimson specializes in handcrafted, estate-grown wines originating from the highest quality winegrowing regions in the United States.  Crimson owns and manages 895 acres of vineyard land across five distinct regions.  Crimson's diverse collection of luxury domestic estates and wine brands includes Pine Ridge Vineyards (Napa, Calif.), Seghesio Family Vineyards (Healdsburg, Calif.), Archery Summit (Dayton, Ore.), Chamisal Vineyards (San Luis Obispo, Calif.), and Double Canyon (Prosser, Wash.).  For more information, please visit www.crimsonwinegroup.com.
SOURCE Crimson Wine Group
CONTACT: Jenna Hudson at Glodow Nead Communications, 415.394.6500 or CrimsonPR@glodownead.com
RELATED LINKS
http://www.crimsonwinegroup.com