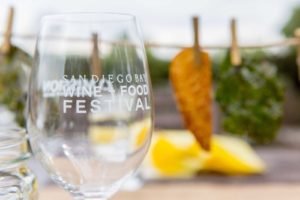 GRAHAM ELLIOT INVITES YOU TO TAKE A BITE OF SOMETHING AWESOME AT THE 15TH ANNUAL SAN DIEGO BAY WINE + FOOD FESTIVAL®
Celebrity Chefs, Winemakers, And Tastemakers To Host Epic Festival of Food, Wine and Culture, November 11-18, 2018
San Diego, CA (October 24, 2018)– Travel to San Diego. Arrive at Awesome. As one of the country's most talked about weeks in food and wine, the San Diego Bay Wine + Food Festival®announces an impressive lineup of celebrity chefs, winemakers, and artisans for its 15th annual festival held November 11-18, 2018.

This year's talent lineup includes, nationally recognized celebrity chefs, legendary winemakers, guest mixologists, James Beard Award-winning authors, Master Sommeliers, brewmasters, artisans and tastemakers, such as: Graham Elliot, Television Personality and Author; Alex Thomopoulos, Chef, Host and Food Blogger; Duskie Estes of Zazu Kitchen + Farm; Michael Ruhlman, American Author and Cook; Abraham Conlon, of Fat Rice; Michael Schlow, of Schlow Restaurant Group; the Hearty Boys television personalities, Dan Smith and Steve McDonagh; Stephanie Prida of The Pool; Dean James Max of DJM Restaurants; Katsuya Fukushima of ​Daikaya; Javier Plascencia of Jazamango, Mision 19, Erizo, Finca Altozano, C​affe Saverios, and ¡Lupe!; Domenica Catelli of Catelli's; Laura Werlin, Author of The All American Cheese and Wine Book; Suzette Gresham of Acquerello; Gale Gand, acclaimed pastry chef; Flor Franco of Encuentro Guadalupe, Convivia, Resguardo; Travis Swikard formerly of Boulud Sud, Bar Boulud, and Epicerie Boulud; Matt Zubrod of The Little Nell; Chad White of Zona Blanca; and more.

This year's impressive lineup of local talent and celebrities include: Bernard Guillas of The Marine Room; Claudia Sandoval, winner of the sixth season of MasterChef; Aron Schwartz of Marina Kitchen; Sam The Cooking Guy, TV personality and owner of Not Not Tacos; Jason McLeod, Chef/Partner of Ironside and Born & Raised; Troy Johnson, TV Personality and San Diego Magazine Food Critic; Anthony Sinsay of Jsix; Andrew Spurgin, of Bespoke Event Styling + Menu Design; Deborah Scott, of Coasterra; Michael Poompan of the Coronado Island Marriott Resort & Spa; Drew Deckman of Deckman's; Claudette Zepeda-Wilkins, Executive Chef of El Jardín; Amy DiBiase of Grand Restaurant Group; Maeve Rochford of Sugar & Scribe; Tommy Fraioli of 10 Barrel Brewing Co.; and more.

Anchored in San Diego, California, Southern California's largest food and wine festival welcomes 10,000 foodies, for a weeklong celebration of over 40 citywide events, including the Grand Tasting on November 17. Television personality and San Diego Magazine Food Critic, Troy Johnson, best known as co-host of Guys Grocery Games, is set to serve as Grand Marshal of the Festival, and welcomes guest to the Grand Tasting with a Champagne saber demo to officially open the festivities.

Surrounded by beach towns, laid-back coastal cities, and bustling urban centers, this year's Festival takes locals and visitors across the city to experience San Diego's cultural diversity, buzzing culinary scene, and signature flavor: Awesome.

Travel to the burgeoning Valle de Guadalupe for an immersive cross border experience, or chow down on an iconic Southern California fish taco.  Sip on local craft beers and sample from hundreds of domestic and international wineries and spirit companies. Learn the ins and outs of sustainable fishing from passionate chefs and fishmongers, join top culinary experts for hands on classes, and so much more.

Hundreds of domestic and international wineries, breweries and spirits headline the festival including: Louis Latour, Dom Perignon, Vins de Provence, Stella Artois, Groth Vineyards, Grgich Estates, Banfi Vintners, Kistler, Bonny Doon Vineyard, Campari, Gloria Ferrer, Loire Valley Wines, Rias Baixas, Glenfiddich, Monkey Shoulder, Woodford Reserve, and hundreds more.

The San Diego Bay Wine + Food Festival raises scholarships for culinary, hospitality, enology, and viticulture students. To date, the Festival has donated more than $375,000 for aspiring professionals.

The San Diego Bay Wine + Food Festival®offers several ways to indulge in the most awesome culinary experience of the year, including all-inclusive ticket packages that offer overall savings, and feature hotel accommodations as well as admission to a selection of the food and wine festival's premier events. Hotel reservations and ticket packages can be reserved by calling, 877.385.9595.

To preview the schedule of events and featured celebrities, visit the San Diego Bay Wine + Food Festival® at http://www.sandiegowineclassic.com/.
SAN DIEGO BAY WINE + FOOD FESTIVAL®
Travel to San Diego. Arrive Awesome. The 15thAnnual San Diego Bay Wine + Food Festival® is an international showcase of the world's premier wine and spirits producers, chefs and culinary personalities, and gourmet foods.  Held November 11-18, 2018 the event benefits culinary arts and enology scholarships awarded by Fast Forward Futures, the Chaîne des Rôtisseurs and the Berry Good Night Foundation. Over 200 wineries, breweries, and spirit companies and 50 of San Diego's top fine-dining restaurants will participate in the 2018 Festival.  For more information visit www.sandiegowineclassic.com. Produced by World of Wine Events and Fast Forward.  For more information call 619-312-1212.