First there was Sip Northwest and then Cidercraft and now Sip California will launch in March. Great job Kristin Ackerman.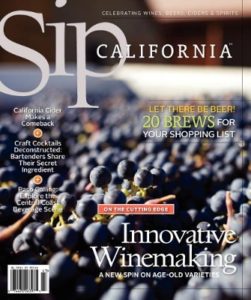 From Sip Publishing, the privately owned-and-operated publisher behind the award-winning regional beverage publication Sip Northwest and the international cider magazine CIDERCRAFT comes Sip California! Focused on the more than 3,600 wineries, hundreds of craft breweries, distilleries on the rise, hard cider expansion, epicurean travel accommodations, bustling bar scenes and culinary artisans of the region, Sip California will showcase the stories behind everything you love to sip—all in one place.
With circulation for the inaugural issue commencing at 40,000, the quarterly Sip California magazine will profile the artisans behind the craft, while exploring the regions, vineyards, orchards and more. The magazine will meet with industry leaders, list original cocktail recipes from nationally-renowned mixologists, recommend pairings with regional cuisine and aid as a connection between the consumer and the producers.
"Our goal is to support the industry, illuminate the people who create and nurture these exciting products and discover the diverse regions where they are found," said publisher Kristin Ackerman.
Ackerman brings more than 15 years of experience with luxury lifestyle magazines to Sip and storied food and beverage editor Erin James has called upon some of the state's best palates to write for the inaugural issue.
"We are fortunate to have a stellar editorial team of Californian writers and experts who will bring the region's beverage stories to life," said James. Contributors include San Diego-based travel and food writer Ann Wycoff, cocktail maven John Pomeroy, beer aficionado Brandon Hernández, wine writer Marcy Gordon and many more talented beverage wordsmiths.
Sip California has already been met with excitement and support from the state's beverage community as well. "We have been advertising in Sip Northwest for the past two years and find their readers to be engaged and interested in our stories," said Beth Costa, executive director of Wine Road, Northern Sonoma County. "Now Sip California will shine the light on all of the amazing producers throughout California!"