ENJOY TASTING ALONG THE WINE ROAD AT THE 16th ANNUAL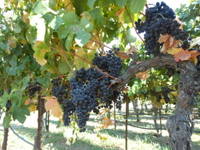 "A WINE & FOOD AFFAIR" IN NORTHERN SONOMA COUNTY
Tickets on Sale for a Weekend of Wine and Food Pairings At Over 100 Wineries
WHAT: The 16th Annual "A Wine & Food Affair" in Northern Sonoma County calls for a weekend of Tasting Along the Wine Road. Throughout the weekend, guests will have the opportunity to visit the 116 participating wineries stretching across Sonoma County's Alexander, Dry Creek, and Russian River Valleys, sampling wine and food pairings along the way. Attendees have the option to purchase tickets for Sunday only or both days of the event, enjoying Sonoma County's finest at their own pace. Participating wineries will each prepare their favorite recipe from the now online cookbook for guests to sample throughout the event. Guests will also receive a commemorative tasting glass and a limited production "Tasting Along the Wine Road" calendar. Keeping with the theme of the event, included in the calendar are wine pairing suggestions for the 12 varietals featured, as well as descriptions for the varietal featured each month.
WHEN: Saturday, November 1 and Sunday, November 2, 2014
11 a.m. – 4 p.m.
WHERE: The 116 winery members participating from the Wine Road Northern Sonoma County in Alexander, Dry Creek, Russian River Valleys in Sonoma County, California
COST: $70 for November 1 and 2 (Saturday and Sunday)
$50 for Sunday only, November 2
$30 for designated drivers for November 1 and 2
All ticket types include the Tasting Along the Wine Road calendar
For every ticket sold, $1 is donated to the Redwood Empire Food Bank.
Tickets are on sale now!
Ticket sales are non-refundable. The event takes place rain or shine.
https://www.eventbrite.com/e/a-wine-food-affair-2014-registration-12448069511
ABOUT WINE ROAD NORTHERN SONOMA COUNTY:
The Wine Road is a travel resource for those looking to visit the region, which is famous for its renowned wine producers and cuisine, scenic beauty, and wine country lifestyle. The association hosts three celebrated wine events throughout the year, "Winter WINEland" in January; "Barrel Tasting" in March; and "A Wine and Food Affair" in November. Made up of 190 vintners and 50 lodgings throughout the Alexander, Dry Creek, and Russian River valleys in Sonoma County, something is always going on along the Wine Road. To plan your next trip, please visit: www.wineroad.com. For additional information, or to request a free map, contact Beth Costa at 800.723.6336 or via e-mail at info@wineroad.com, or visit the Wine Road on Twitter and Facebook.
– See more at: http://www.wineroad.com/press/55#sthash.YoN5eiPv.dpuf