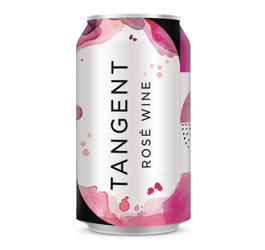 Tangent cans aren't waiting to make their New Year's Resolutions. They've been working on their beach bodies since June and are ready to show off their new shape.
They are ready for the reveal with a new look and better taste. After years of sitting on a shelf in the bottle section, these cans are ready to show their stuff with new labeling that better represents who they see themselves to be on the inside: fun, easy going and up for adventure. Not just a summer wine, canned wines are perfect for winter weather and heavier winter foods because of their high acidity.
The Sauvignon Blanc is a walk in the park with bright, silky and racy with flavors of green apple, lime, grapefruit and lemon zest accompanied by notes of minerality and citrus aromatics. It's the perfect daydream adventure just waiting to welcome you to warmer days ahead.
The Rosé is ready for adventure and can hold up to shredding the slopes or hang during an après ski. It has refreshing flavors of strawberry, peach and melon, followed by hints of rose petal and red fruit. Who doesn't want to hang out with that?
Both wines are made with 100% estate grown fruit from the SIP Certified Paragon Vineyard in Edna Valley, California. The wine is the same quality as what's available in Tangent bottles – something that's pretty rare in the canned wine space.
These cans are up for adventure, ditching the corkscrews and glasses and are ready to pop the top and party. Life is short, winter is long so enjoy the wine and get going