As many of us are looking for a way to escape winter weather you can head to Las Vegas for Vegas Uncork'd by Bon Appétit on April 27th-30th. It's the 10th anniversary and they are going all out with celebrity chefs, wine and food pairings, a dinner for 500 in front of The Venetian Hotel, craft cocktails, and so much more.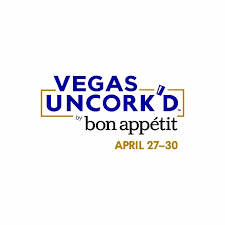 There are so many events to choose from, aside from The Grand Tasting, that you can find to suit your tastes at Vegas Uncork'd Schedule.
If you need some assistance with travel, accommodations, show tickets, etc. Vegas.com can give you some assistance with some great Las Vegas package deals.
These events give you the opportunity to try things that may not cross your path that often. I see this as an opportunity to challenge your palate. Here are five of my wine and food pairing tips:
Tip #1 – Drink what you like. It's always fun to experiment, there are no rules. Ever tried pairing wine with Girl Scout cookies?
Tip #2 – Find balance. A hearty stew needs a bold wine whereas you need to look for a light wine with a salad.
Tip #3 – Try wines and foods that you don't think you will like; you will be surprised.
Tip #4 – Rose' is great to drink all year long. There are many varietals and usually inexpensive. It's my favorite summer sipper.
Tip #5 – When in doubt drink bubbles. My favorite pairing is bubbles and potato chips.