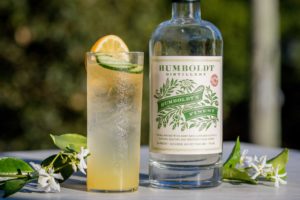 HUMBOLDT COUNTY, Calif., April 16, 2018 /PRNewswire/ — Humboldt Distillery is planning to celebrate 4/20 with cocktails using their cannabis-infused vodka Humboldt's Finest®.  Their award-winning infused vodka is available in a growing number of markets across the country including Arizona, California, Colorado, Florida, Georgia, Illinois, Indiana, Michigan, Mississippi, New Mexico, Texas, and Wisconsin.
"Humboldt's Finest is infused with a legal food-grade hemp, without any detectable THC, so it's legal in all 50 states," says Abe Stevens, founder of Humboldt Distillery. "It does, however, retain a botanical aromatic quality reminiscent of fresh cannabis that gives it a pleasant herbal character, which makes some very tasty cocktails.  One of my personal cocktail favorites is the Hemp Highball."
The infused vodka uses a locally grown hemp, whose domestic cultivation was only recently authorized with the passage of the 2014 United States Farm Bill. Hemp is the strain of cannabis grown for food, fiber and other industrial purposes. Hemp is distinguished from marijuana in that by law its THC content must be less than 0.3%. The hemp used for the vodka infusion is from some of the first legally grown crops in the country since prohibition.
Humboldt's Finest® has received a number of accolades within the distilled spirits industry in the last year.  It stood out among thousands of other entrants to win a Double-Gold Medal at the prestigious San Francisco World Spirits Competition, and the spirit was also awarded an exceptional 93 points in The Tasting Panel Magazine.  The magazine described it as: "On the nose, fresh greenery is far forward along with softer floral tones like jasmine and orange blossom. The brisk fennel, thyme, lime and black pepper on the palate are well integrated for a slide-across-the-tongue texture."  Humboldt's Finest has been growing in popularity with bartenders at bars and restaurants that lead in the creation of innovative cocktails.
Humboldt's Finest® is 80-proof and available in 750-ml bottles, with a suggested retail price of $29.99.
FEATURED HUMBOLDT'S FINEST® COCKTAIL:
HEMP HIGHBALL
1.5 oz. Humboldt's Finest
1.0 oz. jasmine simple syrup
.5 oz freshly squeezed lemon juice
2 slices of cucumber
Soda water
To prepare jasmine syrup, brew a strong jasmine green tea and dissolve 1 part sugar in 1 part hot tea, allow to cool. Add Humboldt's Finest®, a slice of cucumber, lemon juice and syrup to shaker. Shake and strain into a highball glass filled with ice. Top with soda water, and garnish with slice of cucumber.
About: Founded in 2012, Humboldt Distillery is the premier distillery located on California's scenic North Coast.  In addition to Humboldt's Finest, they produce a range of certified organic spirits, including their Organic Vodka which is growing to become one of California's top premium vodkas.
www.humboldtdistillery.com
www.facebook.com/HumboldtDistillery 
Twitter @HumboldtDistill 
Instagram @HumboldtDistillery
| | |
| --- | --- |
| Contact: | Abe Stevens |
| | |
| | 515-314-1726 |
###
SOURCE Humboldt Distillery
RELATED LINKS
http://www.humboldtdistillery.com