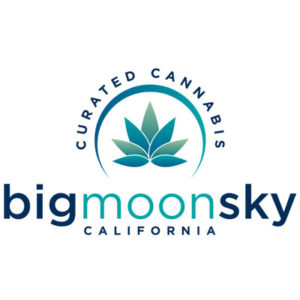 NAPA, Calif., Feb. 28, 2018 /PRNewswire/ — Hailing from the luxury wine industry, Zack Crafton has had plenty of experience consulting for high-profile wineries before joining a little-known wine startup, NakedWines.com. For 3 years Zack ran the operations for NakedWines.com serving as Global Operations Director and ultimately Vice President of Operations.
But it's Zack Crafton's latest business venture – Big Moon Sky –  that will benefit the most from his extensive wine industry experience.
Launched with co-founders Kristin Jackson and James Bagley (also of nakedwines.com) Big Moon Sky is the first online cannabis dispensary and statewide direct-to-consumer delivery service permitted in CA. Drawing on their wine background, they are experts in curating various assortments of unique, best-in-class cannabis products with like-minded partners.  And the proposition – a simple online shopping experience, free, safe & professional delivery throughout the state, and a happiness guarantee.
"The transition from wine to cannabis might come as a surprise to some," admits CEO Zack Crafton, "but the two are actually very similar. Both are agricultural products used for relaxation in social settings, or after a long day's work, and both have an an exciting range of flavors and profiles to explore."
While some winemakers worried that these similarities meant recreational cannabis would be bad news for wine sales, Zack only saw an opportunity for wine industry professionals. "We have just the skill-set needed to succeed in this new landscape of legal cannabis. There's plenty of opportunity for those adept at farming and selling wine as they can easily parlay those skills into selling this new luxury agricultural product."
"Coming from the online wine sector, we were quick to notice a gap in the digital cannabis market for our skill-set," COO Kristin adds. "Online cannabis retailers were severely lacking in some important areas, particularly in their approach to new, legalized consumers. You see, this new market of consumers has little-to-no knowledge on cannabis and the various strains, so the fact that retailers were expecting them to decipher Girl Scout Cookies from Donkey Balls OG was completely ridiculous!"
It was clear to Zack that Big Moon Sky would have to simplify the entire shopping experience to appeal to this new, emerging market of legalized consumers.
"The idea was simple, offer a range of highly curated, low-dose packages tailored towards specific needs and experiences. These curations were created with a similar target demographic in mind to that of Naked Wines – a more sophisticated, affluent customer – seeking a premium, safe and reliable product. The key to Big Moon Sky's success."
Big Moon Sky's range stretches from infused cold brew coffee to luxury chocolates, to flower and vape oil complete with all the tools plus fun tasting notes to enhance the experience. While the company is based near wine country in Northern California, they confirm that they can deliver across most of the state – including as far south as San Diego.
And how's it going so far? 'Great! We've been overwhelmed by the amount of traffic coming from potential customers across the state – over 1000's of visitors at our peak, many of them from wine areas where they don't have a physical dispensary nearby. And our loyal customers have thanked us with their positive reviews too.'
But there's no need to panic, Zack assures us that the wine industry isn't going to go up in a puff of smoke…
"I don't think the cannabis industry is going to overtake the wine industry, by any stretch of the imagination. I own a wine brand as well…and I wholeheartedly believe that wine, especially great wine, is going to continue to be a really strong industry in this country, and globally. That being said, I think both the cannabis industry and the wine industry can absolutely live in harmony."
ABOUT BIG MOON SKY
Established by talented entrepreneurs from the wine industry, Big Moon Sky exists to deliver an exceptional Cannabis experience for medical and recreational users. From the first click to the very last nibble, draw, drop or sip, Big Moon Sky is the best-in-class Cannabis company in CA, offering:
Premium Product: a thoroughly taste-tested and highly-curated product list arranged in simple, understandable collections based on the effects you can expect. All products are locally farmed and produced using only natural processes and methods.
Simple, legal, secure and safe way to buy: Apart from setting the standard for online cannabis shopping, they pride themselves on developing a platform that adheres to current compliance and legal standards in 

California

.
Best in service, every time: Convenient delivery – across 

California

 – on customers terms. The drivers are all friends and family who are committed to providing a safe and easy delivery (don't be surprised if they text you when they are on their way!). Delivery is always free, checkout is always secure, and service is just a phone call or email away. Contact us for specific delivery details.
SOURCE Big Moon Sky
CONTACT: For more information and image requests, please contact zack@bigmoonsky.com
RELATED LINKS
http://www.bigmoonsky.com