Make A Meal App Wins UK and US Design Awards
Make A Meal, the meal planning app that helps families to waste less food and save money, is a two time award winner. The app has won recognition on both sides of the pond since its launch. It was named the Best Cooking App in the UK App Design Awards soon after launch and followed this up with the Best Cooking App title in the US App Design Awards just before Christmas.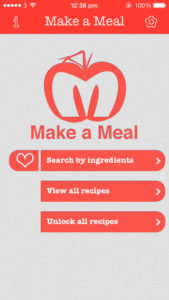 The UK App Design Awards take place during London Tech Week with over 160 apps competing in more than 30 categories. The winning apps in each category were based on over 2,000 ratings from the marketplace, industry and judging panel. As the cooking category champion, Make A Meal saw off fierce competition from dozens of rivals, winning over judges with its unique concept.
Its success in London was followed with a victory in the same category Stateside in December. Held in December in San Francisco, the US App Design Awards crowned 40 gold and silver winners in 30 categories, selected from more than 170 nominations.
Unlike other food or recipe apps, Make A Meal helps users to cut down on their food waste and save money by suggesting recipies based on ingredients already available. The app functions like a gourmet search engine, with the user able to input their ingredients, such as chicken or tomatoes, or search through favourite categories like pasta or meat to access recipes. Recipes can be filtered according to skill level, preparation time or dietary requirements leaving the user with step by step dishes that use ingredients that may otherwise be wasted.
There are over 150 recipes available for free, with another 850 recipes to be unlocked for a £0.79 in app purchase. The recipes are sourced from chefs and cooks around the world, giving a range of cuisines to choose from.
Paul Saxby said, "Make A Meal is a very unique app in that users can start recipes using the food that is already available. This was key for us as we want to help users reduce food waste and save money on food bills by providing tasty meal planning and practical recipe ideas. We were delighted to win both the UK and US Best Cooking App titles, which shows just how universally applicable the Make A Meal App is."
Download the app for free from the App Store or visit www.make-a-meal.co.uk to find out more.