Treat your family to these colorful shrimp tacos this Lenten season. Chili powder and cumin seasoned shrimp bring a welcome heat, while a drizzle of creamy salsa made with McCormick®Mayonesa and HERDEZ® Salsa Casera cools it all off for a craveable, tangy finish.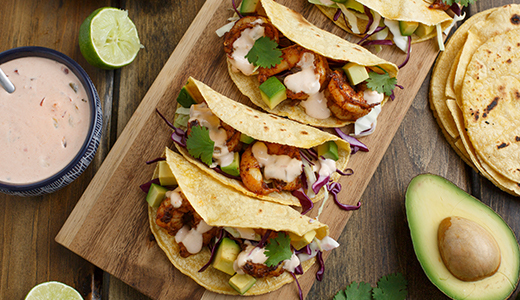 Ingredients:
Creamy Salsa:
1/4 cup 1/4 cup McCormick® Mayonnaise with Lime Juice (Mayonesa)
1/4 cup HERDEZ® Salsa Casera (Mild, Medium or Hot)
Chili Lime Shrimp Tacos:
1 tablespoon McCormick® Chili Powder
1/2 teaspoon McCormick® Garlic Powder
1/2 teaspoon McCormick® Ground Cumin
1/4 teaspoon salt
1 pound shrimp, peeled and deveined
1 tablespoon vegetable oil
1 tablespoon lime juice
6 (6-inch) corn or flour tortillas, warmed or grilled
Optional Toppings:
Cabbage/lettuce, shredded
Avocado, chopped
Tomatoes, diced
Cilantro, chopped
Lime wedges
Serves 3 to 6
Directions:
Mix mayonnaise and salsa in small bowl until well blended. Cover and refrigerate until ready to serve.
Mix chili powder, garlic powder, cumin and salt in small bowl. Toss seasoning mixture with shrimp in medium bowl until evenly coated.
Heat oil in large skillet on medium. Add seasoned shrimp; cook and stir 4 minutes or until shrimp turn pink. Stir in lime juice.
Serve shrimp in warmed tortillas. Top with creamy salsa and desired toppings, such as shredded cabbage or lettuce, chopped avocado, tomatoes and fresh cilantro, and lime wedges.