There is nothing better than being given the creativity to create your own dish! Use this DIY shredded chicken taco bar recipe for a group gathering or just a evening in for two.
Recipe courtesy of: Lindsey @LindseyEatsLA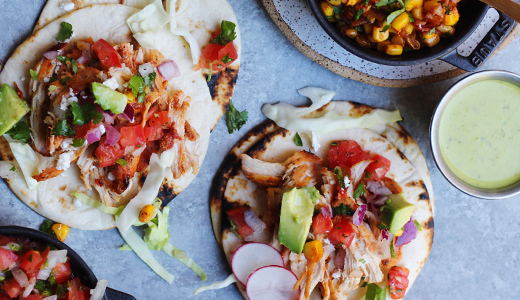 Ingredients:
1 pound chicken breast
1/2 cup HERDEZ® Salsa Casera
1/2 teaspoon salt
1/2 teaspoon crushed red pepper
1/2 teaspoon garlic powder
1/2 teaspoon paprika
1 teaspoon olive oil
Taco Bar Toppings:
Pico de gallo: see below for recipe
5 to 6 corn or flour tortillas
Garnish:
5 sliced radishes
1/2 thinly sliced red onion
1/2 cup shredded green cabbage
1 lime, cut into wedges
1 cob of corn
1 to 2 sliced jalapeños
1/4 cup chopped cilantro
1/4 cup feta cheese
Pico de Gallo garnish:
2 Roma tomatoes, chopped
1/2 white onion, chopped
1 teaspoon cilantro, chopped
1 lime
Serves 3 to 4
Directions:
Heat oven to 400°. Season chicken with 1/2 cup HERDEZ® Salsa Casera, salt, crushed red pepper, garlic powder, paprika and olive oil. Place in oven for about 30 to 40 minutes until cooked through.
Place 1/2 cup shredded cabbage in a bowl, as well as bowls of radish, red onion, lime wedges, 1 sliced corn cob, slice jalapeños, HERDEZ® Guacamole Salsa, cilantro and feta cheese.
Remove chicken from oven, and while hot, shred with 2 forks. Note: if you let the chicken sit out before shredding, it won't shred as easily.
Place your shredded chicken and toppings in separate bowls as well as your heated tortillas, assemble, enjoy!
For Pico de Gallo: Mix together chopped Roma tomatoes, white onion, cilantro and lemon juice.