These shrimp skewers marinated in HERDEZ® Salsa Verde is the perfect light and easy dish that is bursting with flavor and crunch. Don't forget to pair it with street corn mixed with feta cheese for the ultimate pairing.
Recipe courtesy of: Lindsey @LindseyEatsLA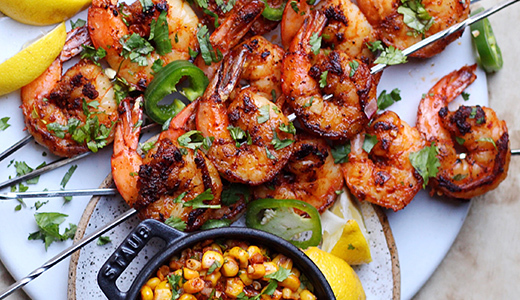 Ingredients:
1 pound Jumbo shrimp
1/2 teaspoon salt
1/2 teaspoon pepper
1/2 teaspoon garlic
1/2 teaspoon chili flakes
1/2 teaspoon paprika
1/4 cup HERDEZ® Salsa Verde
For the Street Corn:
3 ears of corn
1/2 red onion
Juice of 2 limes
1/4 cup chopped cilantro
1/2 sliced jalapeño
1 teaspoon cayenne
1 teaspoon cumin
1 teaspoon paprika (smoked paprika if you like!)
1 teaspoon chile flakes
1 teaspoon pepper
1 teaspoon salt
1 tablespoon mayonnaise
1 tablespoon sour cream
1 tablespoon crumbled feta
Toppings / Garnishes:
lemon (in wedges for garnish at the end)
Parsley
HERDEZ® Guacmole Salsa For Dipping
Serves 3
Directions:
Heat oven to 400°.
Season shrimp with salt, Chile flakes, pepper, garlic, paprika and 1/4 cup of HERDEZ® Salsa Verde. Cover and refrigerate 20 minutes.
Season corn with cayenne, cumin, paprika, Chile flakes, pepper, salt and 1 teaspoon olive oil. Bake 20 to 25 minutes until corn is cooked.
Once cooked and cooled, slice off the kernels in a bowl with chopped red onion, juice of 2 limes, jalapeño, mayo, sour cream and feta. Salt and pepper to taste.
Heat oil over medium heat. Add shrimp and cook until golden brown, about 3-4 on each side.
Remove from skillet, let stand 2 minutes and thread into skewers.
Serve with HERDEZ® Guacamole Salsa and the street corn. Top with Feta Cheese, Parsley and Cilantro.