American Lamb Jam 2018 Tour Seattle June 24th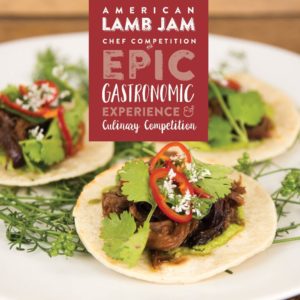 SEATTLE, WASHINGTON – (JUNE 7, 2018) On Sunday, June 24th, 14 chefs from the hottest restaurants in town will duke it out for the title of Lamb Jam Seattle Champion! From lamb belly ramen to lamb ham cubanos, these chefs will take food lovers on a culinary tour across the globe as they compete in 4 cuisine categories: Asian, Latin, Mediterranean and Middle Eastern. And the gastronomic experience doesn't end there; bartenders, winemakers, brewers and culinary artisans of all sorts will join in on the fun. Whose American lamb dish will reign supreme? Attendees and local food media will decide.
Seattle is the fourth stop on this multi-city cook off that bring together the nation's top culinary talent to
celebrate the 80,000 family operated farms and ranches raising lamb across the nation. Victors are
named in each global flavor category and a "Best in Show" champion will advance to the finale later this
year to compete with Lamb Jam winners from Seattle, San Francisco, Austin, Washington, D.C., and
Boston, for the ultimate title of "Lamb Jam Master." Lamb Jam launched in Seattle 8 years ago and
moved on to the National tour circuit the following year. Seattle is one of the strongest markets in the
country for American lamb and it can be found in a variety of cuts at all major grocery outlets.
Available tickets include VIP ($125) and Main Event ($75) and can be purchased online here. For more
information visit www.americanlambjam.com. Be sure to follow the Lamb Jam Tour on Facebook and Instagram! VIP ticket with entrance at 2pm includes freshly shucked oysters, caviar, gourmet cheeses, lamb charcuterie, bubbles, specialty wine and beer to enjoy for an hour before the main event starts at 3pm. Did we mention live music and a live butchery demo? Oh yes, this is super fun, tasty and
educational event. Attendees will walk away with great ideas for preparing lamb at home and see how
approachable it is to work with as well as adding adventure to the dining table!
EVENT DETAILS
Lamb Jam Seattle: Sunday, June 24th, 2018
2 p.m. – 6 p.m. VIP
3 p.m. – 6 p.m. General Admission
Seattle Design Center
5701 6th Avenue South
Seattle, WA 98108
PARTICPATING CHEFS:
Main Event
● Syd Suntha – Bread and Circuses
● Varin Keokitvan – Heartwood Provisions
● Elijah DiStefano – Thackeray
● Kelsey Carter – Lark
● Manny Arce – Poquitos
● David Nichols – Rider
● Aarthi Sampath – Kukree
● Derek Ronspies – Le Petit Cochon
● Tori Mann – Lola
● Thomas Soukakos – Omega Ouzeri
● Bobby Palmquist – Bar Mulesine
● Carrie Mashaney – Mamnoon
● Derek Simcik – Scout PNW | Thompson Seattle Hotel
● Jason Stoneburner – Stoneburner/Bastille
VIP
● Jon Langley – Dexter Brewhouse
● Stuart Lane – Spinasse
This event is brought to you by Tasty Creative and the American Lamb Board. For more information
about the American Lamb Board please visit americanlamb.com. Ticketing and event information is
available at americanlambjam.com.
###