So the holidays behind us and you may be a bit tired of turkey, ham, and roast beef and other indulgences you consumed. It's also the time we start to watch our calories with visions of bathing suits in our heads.  Here are a few ideas that are delicious, healthy, and low in calories. Paired with wine, of course.
Tuna Salad Sandwich Recipe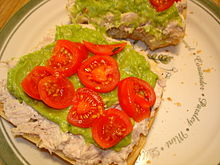 1 can of tuna fish usually packed water or oil
2 Tablespoons of mayonnaise
1/4 purple onion, chopped finely
2 celery stalks, chopped finely
1 Tablespoon of capers
Juice of half of a lemon
Pinch or two of dill
2 Tbsp minced fresh parsley
1 teaspoon of Dijon mustard
Guacamole (spread on top of the tuna mixture)
Mix all of the ingredients. You can use the oil or water from the tuna to mix into the salad mixture or you can add a few tablespoons of Italian salad dressing.  I like to serve on toast, either open faced, or in a regular sandwich with lettuce and tomatoes. For a low carb option, serve on sliced lettuce. You can serve this along with vegetables or cottage cheese.
Wine Pairing: Sparkling Rose', Sauvignon Blanc, or a Chenin Blanc
Shrimp with Avocado Salad
1/4 cup of white wine vinegar
1/4 cup grape-seeds oil or olive oil
3 garlic cloves, minced
1/2 lb medium shrimp, cooked, peeled, and de-veined
2 ripe avocados
Lettuce – preferably butter lettuce or red leaf lettuce
Lemon slices for garnish
1 Tbsp chopped cilantro
Combine oil, vinegar, and garlic in a bowl. Chop shrimp into 1/2 inch pieces and add to oil mixture. Arrange leaves of lettuce on individual plates. Cut avocados in half and remove pits. Remove some of the avocado around the pit area and mix in with the shrimp. With a spoon, carefully scoop out avocado halves from their skins in one piece. Place avocado half on plate with lettuce, spoon shrimp mixture on to avocado. Sprinkle with walnuts and cilantro (optional). Serve with lemon slices for garnish. You can server this along with vegetables or cottage cheese.
Wine pairing: A crisp citrus flavored Sauvignon Blanc
Spanish Rice with Chicken
2 tablespoons olive oil (can use up to 1/4 cup)
1 onion, chopped fine
2 garlic cloves, minced
2 cups of medium or long-grain white rice or wild rice
3 cups of vegetable stock
1 heaping tablespoon tomato paste or 1 cup of diced fresh or cooked tomatoes, strained
Pinch of oregano
1 teaspoon salt
2 pounds of chicken which can be grilled or fried and cut in to slices or chucks and added alongside the rice or mix with rice as it simmers. This is a nice addition along with the rice and can be mixed in once the rice has been cooked as well.
In a large skillet brown rice in olive oil, medium-high heat the add onion and garlic. Cook onion and rice mixture, stirring frequently, about 5 minutes, or until onions are softened.
In a separate sauce pan bring stock to a simmer. Add tomato sauce, oregano, and salt. Add rice to broth. Bring to a simmer. Cover. Lower heat and cook 15-20 minutes, depending on the type of rice and the instructions on the rice package and let sit for 5 minutes. Wild rice sometimes takes a bit more time but worth the wait.
Wine Pairing: Chardonnay or Pinot Noir