Plated (Plated.com), the premium cook-at-home dinner delivery service, today announced "Road To Discovery, brought to you by MasterPass by MasterCard," a nine-city nationwide tour that will bring Plated's culinary dinner experience to consumers around the country.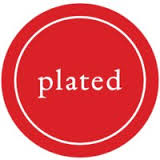 Kicking off on August 22 in San Francisco, Plated's culinary team led by Le Cordon Bleu trained chef, Elana Karp, will bring to life the multi-sensory, at-home cooking experience it offers customers on a weekly basis. Traveling cross country in a custom-built airstream trailer, the Road To Discovery tour connects Plated chefs and partners with consumers to educate them about what goes into creating their meals each week.
"Each week, we create menus that are a mix of recipes you've never seen or heard of, a twist on something familiar, and the best version of your favorite meal," says Chef Elana Karp, Plated's VP of Culinary. "The Road To Discovery tour will bring Plated's mission of helping people discover new ingredients, recipes, and techniques to life —helping people to cook more and live better."
For the upcoming tour, Plated proudly partners with brands who reflect the values of craftsmanship, quality and discovery, including MasterCard, De'Longhi and Kenwood, S.Pellegrino® Sparkling Natural Mineral Water, Pandora, McCormick Gourmet Spices & Seasonings, Laurel & Wolf, and media partner Food & Wine. Brought to life with these distinct partners, visitors to the bus will be able to touch, feel, smell, and see how Plated's sustainably harvested, locally-farmed ingredients are put to use in the meals that arrive at their doorstep each week for dinner.
"Our partners, like we do at Plated, value joyful experiences and believe cooking and eating dinner at home is an experience that should be savored and celebrated," said Nick Taranto, co-founder and co-CEO, Plated. "This generation is the most knowledgeable about food and sourcing, but while seventy-nine percent of Americans say they want to cook at home, the majority of their meals and experiences—and two-thirds of calories —are consumed and occur outside of their home. We're hoping to help them change that."
"At MasterCard, delivering unique and memorable experiences for our cardholders is a key priority, and we recognize cooking as one of the most sensory and enjoyable parts of one's day; a way for family and friends to come together and enjoy each other's company. Plated's mission to help consumers do just that is why we're thrilled to be a part of their innovative Road To Discovery tour," saidMichael Cyr, group executive, U.S. Market Development, MasterCard.
Plated is also working with No Kid Hungry to support its work to end childhood hunger in America by ensuring that kids start the day with a nutritious breakfast, have healthy meals in the summer, and that their families learn the skills they need to shop and cook on a budget.
On the Road To Discovery, each event will include:
Outdoor cooking demonstrations in the lounge from Plated's culinary team, led by Chef Elana, with local chefs and partners.
Programming around Plated's commitment to building a sustainable ecosystem.
An introduction to new spices and flavors and the opportunity to build a customized taste profile.
Customized music from one of six exclusive Plated Pandora stations while customers are walking through the airstream. Available for free listening at: www.pandora.com/plated.
Tailor-made recipe cards based on visitor's unique taste preferences.
An opportunity to create your own tablescape with expert interior designers.
A special offer for visitors to experience Plated at home.
Event locations and dates:
San Francisco

(8/22-8/23)

Los Angeles

(8/27-8/29)

Dallas

(9/5-9/6)

Austin

(9/12-9/13)

Miami

(9/19-9/20)

Chicago

(9/26-9/27)

Washington, D.C.

(10/3-10/4)

Boston

(10/10-10/11)

New York

(10/16-10/18)
For more information and to follow the tour across the country, visit roadtodiscovery.plated.com.
About Plated:
Launched in June 2012, Plated is a national, cook-at-home dinner delivery service, making the aspiration of cooking and eating sustainable, locally-sourced food a reality for busy Americans. Each week, customers choose from an innovative menu of 11 recipes and desserts, with options for vegetarians, and meat and seafood lovers, and delivers all of the fresh, pre-portioned ingredients needed to cook chef-designed recipes at home. Plated is headquartered in New York City with four regional fulfillment centers in New York, Illinois, California, and Florida. For more information, please visit www.plated.com and foodwiththought.plated.com.
Media Contact:
Nicole Brigagliano
nicoleb@mbooth.com
212-539-3231
SOURCE Plated
RELATED LINKS
http://www.plated.com