CELEBRATE NATIONAL BLOODY MARY DAY ON JANUARY 1ST
Ole Smoky Moonshine Puts A Modern Spin On A Brunch Cocktail Favorite… A Green Bloody Mary Made the Southern Way
Cure your New Year's Eve hangover with a glass of everyone's favorite morning-after cocktail. And with the start of 2015, what better way to kick off your resolutions than by trying something new! Celebrate National Bloody Mary Day with an Ole Smoky Green Bloody Mary – a Southern spin on America's favorite brunch cocktail. Whether you're toasting to the New Year or recovering from a wild night, Ole Smoky is sure to keep those resolutions in check and start your year off with a bang!
Weekend brunch never tasted so good! Put a straw in and pass it around ya'll!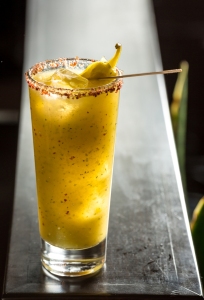 *Photo courtesy of Noah Fecks
Ole Smoky Green Bloody Mary
Ingredients:
6 tomatillos
2 yellow heirloom tomatoes
1 dill pickle
3 garlic cloves
1 serrano chili (seeds remove)
1 oz. Ole Smoky Original Moonshine
1 ½ tablespoon preserved lemon
Juice of ½ lime
3 dashes Tabasco
½ teaspoon each sugar, salt and pepper
Directions:
In a blender, puree ingredients. Fill glass with ice and strain in blended mixture.
To salt rim of glass:
Put 1 Tablespoon each salt, pepper, sugar and Aleppo pepper (optional) in a saucer. Wet rim with lime wedge, dab in saucer
*Cocktail recipe courtesy of Distilled NYC
Shine Responsibly®
Visit olesmoky.com or find us on social media: Facebook.com/olesmoky, Twitter.com/olesmoky and Instagram.com/olesmokymoonshine