How does one describe bliss at sea? I can recommend that you visit Canyon Ranch Spa at Sea on Celebrity Cruises if you want a first class experience. They provide more than a spa experience they focus on all aspects of wellness. You can sign up for complimentary consultations for a more personalized experience tailored to your specific needs. There is a lot to choose from among body wraps, facials, massages, etc. You can see all of the services offered here.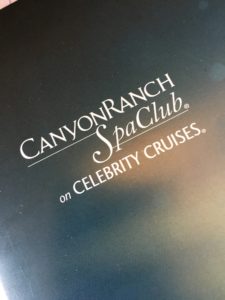 I received the following treatments:
Herbal Cellulite Wrap reduces the appearance of cellulite and makes your skin feel a bit tighter. It begins with a sea salt massage which feels sandy to exfoliate your skin to prepare your skin for the mud and then you are wrapped up. It has delicious aromas of turmeric, ginger, and sarsaparilla. The combination of salt scrub and the mud make me feel like I might be on the beach in Goa, India. After showering off you get the final touch of oil which quickly absorbs into your skin. It was a blissful experience. Shana did a wonderful wrap.
Vitamin Infusion Facial is to restore the nutrients to your skin that has been damaged from the environment and the stress in our lives. They add back vitamins A & C with antioxidants to get your skin looking soft and smooth. Once your facial mask is on you are hooked up to the Ionsyme DF II machine that allows the vitamins to penetrate more deeply using sound waves. All you feel is relaxed and a little tingling and then they peel off the mask.  I can still feel the difference in my skin a week after the treatment.
Intensive Body Profile Treatment uses iontophoresis which helps to firm up and smooth out the skin on your thighs. Once the machine starts you will feel a slight tingling sensation which lasts about 20 minutes. Daniela did a great job.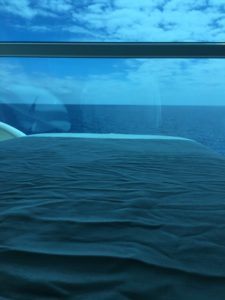 Another great part of Canyon Ranch Spa at Sea is the Persian Gardens. The heated relaxation lounges are amazing. The heat radiates up into your body and relaxes your muscles. It is always hard to pry myself off of these. It is truly a zen experience. They also have a steam room, Finnish Sauna, herbal sauna, and sensory showers.