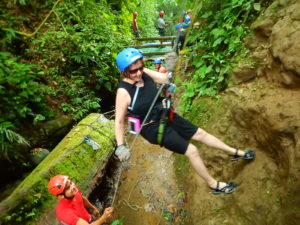 Pura Vida – It's Spanish for "Pure Life".  The Costa Rican's embrace the simple pleasures in life. Enjoy what you are doing and there is no rush. It's a lifestyle. I'm going to do my best to emulate this in my life. No regrets, just go.
Lean  Back – I kept hearing this from instructors while zip lining and waterfall repelling.  You can do it. Lean back and go! It's amazing the things you can do.
Trust Your Training – Yes, it's from NCIS: Los Angeles but it's true. When you are zipping through the canopy and you start to spin around you remember what they said and you continue zipping along like a pro.
What is Important – Don't waste time on the small stuff. Put your phone down and be present. Emails can wait. The hammock and a cool drink are waiting.
Choices – I don't need more things; shoes being a personal exception. Every time I think about buying something I make a choice. Do I want this item or would I rather put it toward a trip?  The choice is yours.
You Don't Know What You Don't Know – Did you know if you miss your connection in Miami and your flight is the next day that you can't go through TSA until midnight? Yes, your ticket has to be for that day to go through. Thanks, American. Information will come to you in many ways, many times.
Patience – Weather can ruin the best of plans. Every delay you encounter with airlines will be weather related; this means that the airline has no responsibility to you at all. Be prepared; change of clothes, power bars, books, etc. Learn the lesson not to travel on the east coast during winter. You will get there eventually.
Shit Happens – Something will go wrong. A hotel reservation that was made six months before your trip will be cancelled ten days before your arrival. Be prepared to scramble.
Talk to Strangers – I know our Mothers told us not to but you learn a lot. I got a ride from a couple going into town, found out that a bus would take me into the bus terminal in the center of town and how much it would cost in colones. By visiting a dog rescue center I found a great restaurant in La Fortuna.
Carp Diem – Get out there and do things. I've crossed the Atlantic on the Queen Mary, walked on a glacier in Alaska, flown in a glider plane in Hawaii, rode a camel at the pyramids in Egypt, zip lined and repelled down a waterfall in Costa Rica to name a few things. I have plenty more on my list of things I would like to do and places I'd like to see.