The Droplet 
Going for a quick pool dip or surf in the ocean? Or heading for workout? Leave behind those other wet inconvenient dripping bags and grab the Matador Droplet wetbag.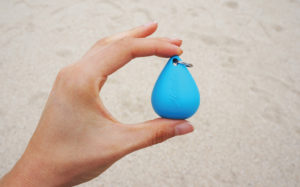 If you're dealing with wet swimsuits or sweaty gym clothes, the Matador Droplet wet bag is the perfect wetbag solution! It's cute, compact design fits on a keychain so you can easily take it with you wherever you go. The Droplet is large enough to hold a whole outfit like sweaty gym clothes or dripping wet swim suits.
 For Outdoors enthusiasts, the Droplet also works as a dry bag, keeping water away from things that you prefer to stay dry. It can protect devices from water if caught in a rainstorm or at the beach. You can use the Droplet when traveling to keep anything that might leak from ruining your luggage. Use it to hold snacks that might make a mess of your backpack or to contain condensation on your water bottle on humid days.
Keep a Droplet in your keychain, pack one in your gym bag, stash one in your luggage or send one with your youngster to camp. Droplets protect your stuff, and so much more. It's available for $14.99.
Matador Pocket Blankets and Droplet can be purchased directly through our website www.MatadorUp.com and available through Amazon Prime and a growing list of retailers across the U.S and internationally.
About Matador
At Matador, we're passionate about developing products that let you take it all in… anytime, anywhere. While visiting a popular urban park in San Francisco, Matador founder and creator, Chris Clearman, found a lot of people lugging large blankets or resorting to sitting on their coats in the damp grass to enjoy the atmosphere. Wishing there was a clean, dry place to sit is a problem anyone can empathize with and from that wish Matador was born. Go ahead, "Put Yourself Out There."