The Matador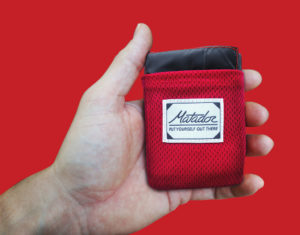 It's time to leave behind the wet, damp and uncomfortable when getting out and enjoying the outdoors. Whether surfing the ocean, taking a break on an epic hike, enjoying a concert in the park, or watching your kid's soccer game, Matador's innovative solutions solve the simplest yet most inconvenient travel problems with stylish high-tech designs and extreme comfort that you can easily take with you!
The lightweight, revolutionary material is designed for use anywhere from sand to bark to grass. The puncture-resistant HyprLyte nylon keeps sticks, stones, sand and bugs from getting through the Matador Pocket Blanket. The material is super fine and tightly woven that has been selected because of it's smooth,  silky, and stick free characteristics. It's also water-proof so you stay dry, comfortable and clean wherever you are lounging.
The patent pending stitched 'Easy-Pack Pattern' marks and guides the blanket, making it really easy to neatly fold up into the size of a wallet. Pop it right into the attached storage pouch and throw it into your backpack, pocket or handbag. Choose from the Matador, which fits two people comfortably for $24.99 or the Matador mini with plenty of room for one for $19.99.