Join Wine Diva Deb onboard the Azamara Quest and pack a lot of adventure into just fourteen days exploring Alaska June 14th-26th, 2019.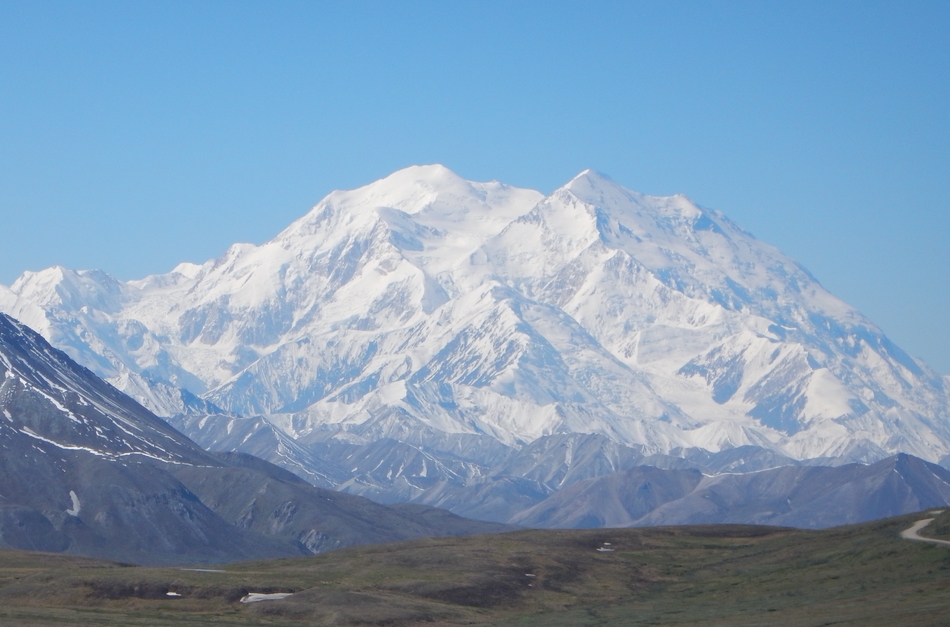 From Vancouver, sail the Inside Passage, a showcase of glacier-capped mountains, winding fjords, small islands and wildlife including eagles and whales. Soak up tall tales and true stories in four historic Alaskan towns. In Ketchikan, take a walking tour of the historic old town, learn about totem poles, go salmon fishing, or visit nearby Tongass National Forest and beautiful Misty Fjords. You'll have a late stay in Juneau, Alaska's capital, with opportunities for dog sledding, or a canoe ride to Mendenhall Glacier. Skagway is all about the Alaskan gold rush; don't miss a ride up steep grades and around hair-raising turns on the historic White Pass & Yukon narrow-gauge railway. In beautiful Sitka, where Russians displaced the native Tlingits to establish a fur seal industry, you'll find an onion-domed Cathedral and authentic 18th-century architecture. The big ships don't dock here, so you can enjoy an uncrowded experience late into the evening. Enjoy more scenic sailing to Icy Strait Point and beyond to blue-lit Hubbard Glacier, where you'll be close enough to hear crashing booms of calving ice.
Following the voyage enjoy 5 days exploring Alaska by land and seeing the magnificent Denali National Park.
Itinerary Details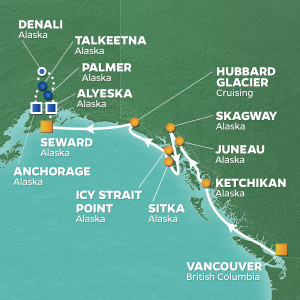 Post Voyage Land Experience
| | | |
| --- | --- | --- |
| | | Depart the port for the Alaska Wildlife Conservation Center. This 200-acre sanctuary was created for orphaned and injured animals that no longer have the ability to survive in the unforgiving wilderness. Witness grizzlies, coyotes, bison and other animals show off their "wild sides" in their protected and permanent home. Afterwards, check into the Hotel Alyeska, nestled in a valley between mountains, glaciers and the ocean. Take the aerial tram to a viewpoint 2,300 feet overhead and soak up panoramas dominated by the Chugach Mountains, the Turnagain Arm, hanging glaciers and spruce forests. Come evening, relax or take advantage of optional activities. |
| | | Awake to breakfast at the hotel before traveling to the historic community of Palmer, a small town born out of Franklin D. Roosevelt's New Deal during the Great Depression. Here, you'll enjoy a fascinating presentation about local farming and the various types of produce grown in Southcentral Alaska. Learn about the down-on-their luck people who first colonized Palmer in 1935, and enjoy lunch at a local restaurant before setting off for the unspoiled reaches of Denali National Park. Arrive at your hotel and enjoy a good night's sleep in advance of a big day come morning. |
| | | Rise and shine to a hearty breakfast in preparation for a full-day tour of Denali National Park. This jaw-dropping setting features 6 million acres of interior Alaskan wilderness, crowned by the 20,310-foot-high Denali, formerly recognized by the United States as Mount McKinley. Explore the untamed wilds where you might spot grizzlies, moose, caribou, wolves and eagles. Reach the Eielson Visitors Center, high in the bluffs, for majestic views of Denali rising to the southwest. A box lunch is included during your expedition. In the evening, enjoy some downtime, or, if you're still feeling energized, join one of the optional activities. |
| | | Enjoy breakfast followed by some time to further explore Denali on your own. Go for a short hike. Find a few new photo opportunities. Or, simply relax and take in the grandeur. By late morning, you'll be on your way to Talkeetna, a tiny community set in the shadows of the Alaska Range. Do a little exploring before boarding the Wilderness Express for the ride back to Anchorage. Relax in a domed railcar, take in 360º views of the rugged territory, and savor a scrumptious dinner on board. Arrive in Anchorage and settle into your hotel room for the night. |
| | | Wake up to a great breakfast at the hotel. Recap your journey and marvel at all the additional memories you'll go home with compliments of this post-cruise extension. Afterwards, a short drive will drop you off at Anchorage Airport with plenty of time to catch your outbound flight. |
Port Details
Vancouver, British Columbia, Canada
Snow-capped mountains peak out from behind tall glass skyscrapers on the edge of the Pacific Ocean. Nestled somewhere between eastern culture and western tradition, Vancouver is a study in nature and urbanity coexisting peacefully.As host of the 2010 Winter Olympics, snowy adventure is never far away. In fact, you can hit the slopes in the morning and be on the beach by afternoon. Bus to the Whistler Valley on the scenic Sea to Sky Trail and mountain hop via PEAK 2 PEAK Gondola, taking the time to ski, ATV, snowmobile, zipline, or wildlife watch along the Whistler and Blackcomb Mountains. Tour Whistler Village—a distinctly European looking alpine town—and browse local shops, the Olympic grounds, and hike nearby forest trails. Immerse yourself in the areas rich aboriginal heritage at the Aboriginal Cultural Center and Museum before heading back to lower altitudes in Vancouver's North Shore. Here you'll find warmer outdoor adventure at Stanley Park, a vast 1000 acres of urban-greenspace that includes ancient cedar rainforest, sandy beaches, and lush flora and fauna. Bike along the 17-mile long Vancouver Seawall, visit the Vancouver Aquarium, or peruse the park's many monuments and totem art.

Home to a large community of Asian immigrants and Asian-Canadians, Vancouver's dining scene is bursting with Eastern influence, from Japanese pubs and Chinese fine dining to fragrant Indian cuisine. The culinary capital of Canada, this claim is bolstered by an unending supply of fresh, locally sourced seafood, a strong farm-to-table movement, and a booming craft beer scene. Tool around North America's largest Chinatown, discover the indie bars and restaurants of the Gastown neighborhood, or grab a bite in one of the trendy shopping areas like Yaletown, Robson Street, or Kitsilano. Tucked between mountains, sea, and cool eateries, you'll find the mid-century inspired Museum of Vancouver and an impressive collection of classic and contemporary art at the Vancouver Art Gallery—including permanent collections by Emily Carr and the Group of Seven. The Museum of Anthropology offers an in-depth look at Aboriginal and Asian culture, while the city's many conservatories and botanical gardens offer a peaceful respite from a busy day of sightseeing.
Ketchican, Alaska
A drizzly little city bordered by the Tongass National Forest, Ketchikan was once a native fishing village that has evolved and grown through its years in the logging and salmon canning industries.Surrounded by lakes, rivers, and streams, the "Salmon Capital of the World" is an angler's paradise. Cast a line on your own, or hop on a charter to reel in salmon, halibut, red snapper, even trout. Keep an eye out for Ketchikan's other marine residents, which include orca and humpback whales, sea lions, seals, otters, and porpoises. Zipline between cedars over a lush forest of Sitka spruce, hike Married Man's Trail to surrounding waterfalls, kayak the twist of waterways along the Misty Fjords, or board a seaplane for a bird's eye view of it all.

The city's downtown is built around a network of waterways and includes the infamous Creek Street. Once a red-light district during the area's logging days, this waterfront promenade built high on pilings is now a bustling commercial area filled with quaint restaurants, bars, gift shops, and incredible scenic views. Home to 350 registered artists—including many native Tlingit, Haida and Tsimshian artists—Ketchikan also boasts a number of galleries. Visit the world's largest collection of standing totem poles at the Totem Heritage Center, or immerse yourself in native culture and art at the Saxman Native Village Totem Park. After an exciting day of taking in Ketchikan's beauty, head back to the boardwalk, grab a beverage and catch some live music.
Juneau, Alaska
Bookended by Mount Juneau and Mount Roberts along the Gastineau Channel, Juneau is a true frontier city with a gold mining past and rugged terrain. Stretching from the 30 glaciers of the Juneau Icefield to the waterfront downtown, Juneau is unlike any state capital you've ever visited.Historic South Franklin Street offers plenty of spots to cozy up with a cup of locally roasted coffee or cheers over a pint of local brew. Visit the Juneau Douglas City Museum and Last Chance Mining Museum to learn about the city's gold mining history. Watch salmon climb upstream to spawn at the Macaulay Salmon Hatchery, or soak up the sun at Marine Park. For the best view of downtown Juneau, board the Mount Roberts Tramway and ride to the top for great dining, shopping, native art, and easy access to premium hiking trails.

Sitting at the edge of a residential neighborhood is the famous Mendenhall Glacier and the Tongass National Forest. Watch a glacier calve into the water below, hike sprawling forest trails, or catch a helicopter tour and glacier trek or dog sled. By boat or kayak, you're guaranteed a sighting of one of the 60 humpback whales that frequent the waters, or Juneau's other marine residents including Steller sea lions, Dall's porpoise, orcas, and salmon. For a real feast for the senses, paddle the calm waters of Mendenhall Lake and feel the icy rush of paddling amongst icebergs. It's hard to believe you can experience so much in one place.
Skagway, Alaska
| | |
| --- | --- |
| | Tucked between the White Pass and the Chilkoot Trail, Skagway sits at the head of the Lynn Canal in Alaska's Inside Passage. A perfectly preserved frontier town, Skagway is a relic of the gold rush era that opens onto the rugged Coast Mountain passages, once trod by bold stampeders seeking riches in the Klondike.Once a bustling town full of saloons, gambling, and brothels, today Skagway is much quieter, but its debaucherous past has left an indelible mark. The wooden sidewalks and false-front shops of Broadway Street instantly transport you to a different time. Take in historic sites like the storied Red Onion Saloon, the yellow-domed Golden North Hotel, and the decidedly rustic Arctic Brotherhood Hall, with its driftwood covered façade. Many of Skagway's historic buildings have since been restored as part of the Klondike Gold Rush National Historical Park. The Mascot Salon Museum, Moore's Cabin, and Bernard Moore House all preserve Skagway's gold rush past as museums that tell tales of both vice and family life in the frontier town. For a more detailed account, head to the Corrington Museum of Alaska History and the Skagway Museum to see every aspect of local history from mastodon fossils and native handwoven baskets to the pistol of Skagway's official bad boy, Soapy Smith. |
Sitka, Alaska
In the shadows of the dormant, snow-capped Mount Edgecumbe, sits the quaint city of Sitka. The only community within Alaska's Inside Passage to skirt the Pacific Ocean, Sitka's lush green hills and salty ocean air stand in contrast to typical descriptions of the Last Frontier.Sharing an equally important historical connection for the native Tlingit people and Russian settlers, Sitka is both the ancestral homeland of the Tlingit and the former capital of Russian America. A walk around the city's downtown brings you closer to its history with views of the Blockhouse, Russian Bishop's House, St. Michael's Russian Orthodox Cathedral, and the storied Castle Hill. Sitka's many museums, art galleries, and cultural centers all offer a more in-depth view of the city's past and present. Stop into the Sitka Historical Museum, Sitka Cultural Center, and Shee-tka Kwaan Naa Kahidi Community House to see photographs, artifacts, traditional art, and native dance performances. Nearby, Harrigan Centennial Hall showcases regular performances by the New Archangel Russian folk dancers.

Aside from its eclectic history, Sitka offers a fantastic variety of outdoor adventures for the nature lover. Its narrow passages and broad bays are a haven for an incredible array of marine life that includes humpback whales, sea lions, and of course, salmon. Take a boat cruise around Sitka's coast, or rent a kayak to experience each rocky nook and cranny. On land, you'll find plenty of opportunity to bike, hike, and explore the beautiful mountains and tall spruce of the Tongass National Forest. Visit the Fortress of the Bear and the Alaska Raptor Center to get an up-close look at orphaned brown bear cubs, injured bald eagles, and other birds, and learn about both centers' commitment to serving Alaska's wildlife. With so much to see and do, the only thing you have to worry about is taking it all in.
Icy Strait Point, Alaska
Located on Chichagof Island, Icy Strait Point is built on the site of the former Hoonah Packing Company salmon cannery. The facilities restored outbuildings now house a variety of restaurants, a museum, and local arts and crafts shops. More than just a tourist destination, the port is a cultural hub for the original inhabitants of the area—the Huna people. In addition to modern amenities, you can enjoy a variety of activities indigenous to the area including native dance performances, brown bear viewings, and whale watching.At Icy Strait Point, there's no need to fight between your inner adventurer and laid-back vacationer. You can experience the heart-pumping heights of the world's largest zipline or sit-back with an Alaska Crabby Bloody Mary, garnished with a fresh-caught snow crab leg. Take a chartered boat ride to see the region's magnificent marine life, including orcas, Steller's sea lions, seals, and porpoises. There are also plenty of opportunities to participate in the region's favorite pastime—fishing. Try your hand at catching the five species of salmon that frequent these rivers and streams, as well halibut and the other saltwater varieties.

Just beyond Icy Strait Point, the rest of Chichagof Island offers an abundance of things to see and do. From birding to kayaking, four-wheeling down old logging trails to hiking amongst tall Sitka spruce, you'll be sure to have more than a few bucket-list worthy moments on your trip to Icy Strait Point.
Hubbard Glacier, Alaska
Experience the breathtaking expanse and beauty of the Hubbard Glacier. Named after National Geographic's first society president, Gardiner Hubbard, this frosty-blue glacier is a sight, unlike anything you've ever seen.While many of the world's glaciers are retreating, the 8-mile-wide Hubbard Glacier continues to "gallop" across the Russell Fjord, at times temporarily damning its passage. The longest ice river in North America, this 76-mile stretch of glacier water begins at Mount Logan in Canada's Yukon and meanders its way through Alaska to the Russell Fjord Wilderness. Witness this awe-inspiring phenomenon from onboard as you cruise through the misty, chilled air of the Gulf of Alaska. See whales, harbor seals, and otters hunting as your ship turns from Yakutat Bay into the narrow Disenchantment Bay to come face-to-face with the towering Hubbard Glacier.

Encounter the 350-foot-tall blue-lit wall of ice, and watch the mighty glacier calving giant icebergs into the icy waters below. Known as "white thunder" to the Tlingit, witnessing these icy chunks crash into the water from the glacier's face is truly a once-in-a-lifetime experience. Cruise alongside the longest tidewater glacier in the world, watch as seals use the ice floats to hide from predatory whales, and spot brown bears and Sitka deer in the distance as they roam ashore near the snowy mountains framing the glacier. This is the Alaskan adventure you've been dreaming of.
Seward, Alaska
Seward is one of Alaska's oldest communities. Lying at the foot of Mount Marathon on Resurrection Bay, this scenic city offers unlimited ways to explore its natural splendor.Founded in the early 20th century as settlers plotted the construction of the northbound rail line, Seward's ice-free port and crowning Harding Icefield quickly established the city as an important shipping terminal on the Kenai Peninsula and the southern terminus of the Iditarod National Historic trail. Temperate rainforest climate and active glaciers combine to offer countless tidewaters, marine-rich waters, lush forest trails, and a variety of wildlife.

Travel to the Kenai Fjords National Park to hike or ski amongst its beautiful mountains. Kayak the tide pools along the fjords, and explore the Exit Glacier while mushing your own dog sledding team. A boat excursion or flightseeing tours offer an up close glimpse of the Harding Icefield's glaciers, the majesty of the dramatic Kenai Fjords, and the dense greenery of the Chugach National Forest. Tour the rich waters of Resurrection Bay, join local anglers to fish for Coho salmon and halibut, or keep a look out for bright-billed puffins, friendly otters, sea lions, humpback whales, and much more. Take a coffee break in Seward's quaint downtown, or find a mount and explore areas of the shoreline only accessible on horseback, including the old town of Seward, which was leveled by the Good Friday Earthquake. Shaped by time, earthquakes, and ocean storms, Seward's unfolding beauty is yours to explore, any way you choose.
On Board Inclusions
An AzAmazing EveningSM event (on most voyages)
Select standard spirits, and international selection of beers and wines throughout the voyage
Gratuities (dining, bar and housekeeping)
Shuttles to/from port communities, where available
Destination-influenced entertainment & enrichment
Bottled Water, Sodas and specialty Coffee & Teas
Concierge Service
Self-Service Laundry
All gourmet meals
Casino
Aqua Spa and Fitness center
Piano and Wine bar, and Live Entertainment
For Suite Guests
All standard amenities plus:
English butler service
235 complimentary Internet minutes
One free bag of laundry service per suite, each seven days
Complimentary dining in specialty restaurants
Afternoon tea service in suite
Guests in Club World Owner's and Club Ocean suites may choose a complimentary Insider AccessSM or Nights in Cool PlacesSM excursion
Pricing Details* (per person US$) For 13- Night Cruise TOUR June 14 – 26, 2019
*Airfare and transfers to and from ship are not included in prices listed
Included up to $500 shipboard credit (dependent on cabin booked)
| | | |
| --- | --- | --- |
|   | Balcony | $4,854 |
|   | Oceanview | $4,479 |
| |  Suite | $7,254 |
Pricing Details* (per person US$) FOR 8- Night CRUISE ONLY June 14 – June 22nd, 2019
*Airfare and transfers to and from the ship are not included in prices listed
Included up to $500 shipboard credit (dependent on cabin booked)
| | | |
| --- | --- | --- |
|   | Balcony | $3,802 |
|   | Oceanview | $3,352 |
| |  Suite | $5,602 |
To Reserve your space
Send email to: winedivadeb@yahoo.com or call Wine Diva Deb on 206-617-6160.
A deposit of $1,100/cabin or $2,220/Suite is required.
Included shipboard credit offer: Oceanview $300; Balcony $400; Suite $500
All reservations based on double occupancy.  Travel Insurance highly recommended as well as Personal & Medical Insurance.
Azamara Club Cruises reserves the right to impose a fuel supplement on all guests if the price of West Texas Intermediate fuel exceeds US$65 per barrel.