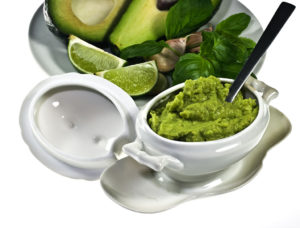 3 ripe avocados
1 lime
1-2 cloves of garlic, finely minced
A large pinch of salt
Cut the avocados, run a knife around the avocado and twist in half. Discard the pit. Use a spoon to remove the flesh and place into a bowl.
Cut lime in half and squeeze both halves into the bowl with the avocado, don't get any seeds in the bowl. Add garlic and salt. Gently mash each avocado half a few times with a fork  then stir all ingredients together.
NOTES
Guacamole is best made and eaten the same day. If you store it make sure that you cover it with plastic wrap pressed directly against the guacamole. Press the plastic wrap onto guacamole to prevent any air getting to it and causing it to go brown.