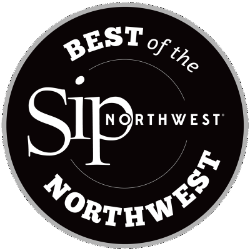 Sip

 

Northwest

 Magazine Announces the 2018 Best of the 

Northwest

!
(Seattle, WA – October 15th, 2018) – 

Sip

 Northwest magazine is excited to release its seventh annual Best of the 

Northwest

 awards issue. This collector's edition showcases the winners of the grand tasting competition from wine, beer, spirits and cider, along with top 

Northwest

 beverage trends, locally focused restaurant and bars, producers to watch, elite drink destinations to visit and when, plus much more.

An open call for submissions in April drafted more than 667 entries from wine, 282 beers, 145 from spirits and 145 ciders. The magazine recruited an accomplished, qualified group of 92 premier palates from the greater Pacific Northwest to assess and determine the top four medalists, plus Judges' Picks, in each respective beverage category.

Together, Sip Northwest and the judging panels built a comprehensive listing of medaled winners to add to readers' shopping list — enough to supply Northwest drinks year-round.

"Putting on this competition and resulting print issue is always an endeavor with so many moving parts, but worth it to see who is producing what in Northwest beverage right now," says Erin James, editor-in-chief of Sip Publishing, publishers of Sip Northwest. "At Sip Northwest, we believe it is our responsibility to the reader to share what is out there. The adept palates on our blind panels help us to uncover and share what is the best of the Northwest, purely based on the drink itself, without any prejudices."

The issue also names producers and destinations to watch and visit in 2019, expert's favorite drinks, bucket list makers to visit, ideal locations to seasonally drink at and sip-savvy advice.

Sip Northwest's 2018 Best of the Northwest issue is a versatile compilation of the top billing beverages of the year. To read the full list of winners, please visithttps://sipnorthwest.com/announcing-sip–northwest-2018-best-of-northwest/.
To order your print copy visit https://sipnorthwest.com/product/2018-fall-print-issue/.
About 

Sip

 

Northwest

 Magazine


Sip

 

Northwest

 magazine is a locally owned-and-operated quarterly magazine that showcases the wines, beers, spirits and ciders of the Pacific 

Northwest

. The award-winning magazine was created to be the leading authority and resource on the emerging and flourishing beverage scene, covering everything from recipes and the culture to the faces and the stories behind all that is "

sip

pable" in the

Northwest

.Media Contact:
Kristin Ackerman Bacon
Publisher and CEO, 

Sip

 Publishing
kristin@

sip

northwest

.com | (206) 701-0238
Copyright © 2018 

Sip

 Ventures LLC, All rights reserved.
You are receiving this email because you subscribe to 

Sip

 

Northwest

 Magazine, Passport to 

Sip

 or Insider eNewsletter through 

sip

northwest

.comOur mailing address is:

Sip Ventures LLC

1333 N Northlake Way, Suite E

Seattle, WA 98103