Master the Principles of Wine & Cheese Pairing In Time for the Holidays
The holiday season is quickly approaching and with it comes holiday gatherings, office parties, romantic dinners, and lots of time with friends and family. Survive the season with a glass of wine in your hand and an outstanding new sense of pride in your superb understanding of wine and cheese pairing. Better yet, host your own wine and cheese evening. No one says no to wine and cheese.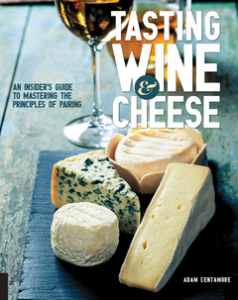 In his gorgeous new book, Tasting Wine and Cheese, maitre d 'Fromage Adam Centamore teaches readers how to first taste wines and cheeses separately, helping everyone to understand the complex profiles of reds, whites, aged, and fresh. But wading through these waters is only half the battle. Tasting Wine and Cheese takes readers on a journey through pairings of cheeses with white, red, sparkling, and dessert wines. There is even a section to help readers pair condiments with their wine and cheese.
Whether readers are looking to broaden their appreciation for gourmet combinations or simply looking for a menu to host a party, everyone will find everything they need in this comprehensive, must-have guide.
Here's what people are saying:

"Adam Centamore is a master at making the perfect wine and cheese match. The interactive pairing workshop he teaches is one of our most popular Wine School classes ever." – Jonathan Alsop, founder & executive director of the Boston Wine School and author of Wine Lover's Devotional: 365 Days of Knowledge, Advice and Lore for the Ardent Aficionado"Wine and cheese pairings decoded! In Tasting Wine and Cheese, Adam employs the same approach in this book as he does his classes – comprehensive, fun and filled with practical information for anyone interested in the enjoyment of food. The result is a pairing of its own as both a solid primer and a worthwhile reference for your future wine and cheese pairing adventures." – Tim Bucciarelli – Manager, Formaggio Kitchen