Four Favorite Dishes You Didn't Know Pair with Champagne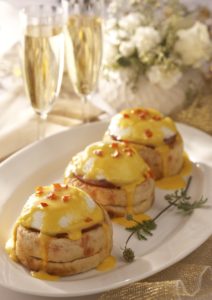 While you may think of Champagne as just for toasting, experts point out that it can actually be quite food-friendly.
"Champagnes with a higher proportion of Chardonnay in their blends — such as the signature style of Champagne Taittinger — can be particularly versatile when it comes to food pairings," says Chicago-based sommelier, Belinda Chang.
For this purpose, Chang recommends the family-owned and operated champagne house, which offers a distinctive, light and delicate style, a longer aging period before release and sustainable production processes. "Every self-respecting foodie and wine geek knows to pair Champagne with a towering icy plateau of shellfish like chilled lobster, crab and oysters," she says. "But you can get a lot more creative than that."
To help you expand your Champagne-pairing palate, Chang is offering four of her favorite suggestions.
1. Tacos and Bao. "I love a Taco Tuesday, a Taco Thursday and a taco every day, and to me, a bao is essentially a Chinese taco. I have enjoyed many an ice-cold beer and many a mediocre margarita at taquerias and food trucks, but I have learned that there's a better match for my favorite tacos and bao: a chilled bottle of Brut La Française (SRP: $64.99) in my purse," says Chang, who points out only a classic style Champagne that's complex itself will handle the infinite permutations possible with tacos and bao.
2. Eggs. "Are you a breakfast for all meals person? I am!" says Chang. "Occasions like managing to perfectly poach an egg and getting the omelet to flip just like on TV are causes for celebration in my book."
Chang recommends popping that bottle of vintage, prestige cuvée Champagne that you have been saving for the perfect pairing. While you may love a bellini or mimosa at your favorite brunch spot, restaurants are generally using low-quality sparkling wines that are best masked with other flavors. A great Champagne does not need anything but a bit of chill, a glass and your egg dish to take your meal to the highest heights. Consider adding a bit of caviar to your omelet and pairing it with Taittinger Brut Millesime 2009 (SRP: $102.99). Or, serve eggs benedict and shakshuka alongside Taittinger Nocturne Rosé City Lights NV (SRP: $98.99).
3. Burgers. "Every town in America has at least one outstanding burger, if not dozens. You've found your favorite and now it's time to find the best thing to drink with it!" says Chang. "You might reach for that milkshake or red wine instinctively, but I would argue that a bright, high-toned Champagne is a perfect foil for any burger, from rare beef with mushrooms and Swiss on a brioche bun to a black bean veggie burger on whole grain."
4. Bar Snacks. "Bar owners have always known this: customers will drink more and stay longer (and drink more) when provided with the right snacks. Delicious, salty, savory, crunchy chips, nuts and crackers are the yin and Champagne is the yang at my favorite watering holes."
At home, pair any of the Champagnes mentioned above with homemade potato chips sprinkled with sea salt, parmesan, pink pepper or even blue cheese, or fancy chips made from beets, sweet potato, taro and even okra. Serve with French onion dip, crème fraîche and caviar or any dip that you love. (StatePoint)
———————————————–
———————————————–
PHOTO SOURCE: (c) jimbowie/stock.Adobe.com