Moët Hennessy USA is proud to announce the launch of ChampagneMasters.com, a mobile-ready education portal that teaches wine lovers the finer points of Champagne by examining five of the most esteemed Champagne houses in the world.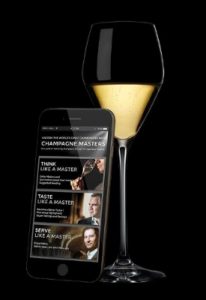 Taking a cue from how sommeliers are classically trained, the website is organized into three sections:  Think Like a Master, Taste Like a Master and Serve Like a Master:
Think Like A Master: Features a Champagne overview, reading resources and deep conversations between top sommeliers and world-class cellar masters.
Taste Like A Master: Learn the art and science of tasting with five legendary wines:

Moët & Chandon: The Champagne of Success & Glamour since 1743. Moët & Chandon is characterized by a bright fruitiness, a seductive palate, and an elegant maturity.
Veuve Clicquot: Each Cuvée stays true to the Veuve Clicquot style and spirit, loyally upholding the standards of Madame Clicquot: "only one quality – the finest."
Dom Pérignon: A vibrant, living, perpetually renewed homage that evokes Dom Pierre Pérignon, the spiritual father of Champagne. Always a vintage wine, the Dom Pérignon commitment to vintages is absolute: Dom Pérignon is made from only the best grapes and is declared only in the most exceptional years, from a single year's harvest only.
Krug: Since 1843, six generations of the Krug family have cultivated the striking individual character of their exceptional Champagne going beyond vintage and producing the best every year regardless of climate variations.
Ruinart: Beloved for its Blanc de Blancs, Ruinart's perfect mastery of Chardonnay is responsible for the consistency, freshness and aromatic freshness and complexity for which the first established Champagne house is best known.

Serve Like A Master: Select, open and pour Champagne like a pro with a comprehensive glossary of terms, food pairing ideas and a step-by-step guide to opening a bottle.
"We built ChampagneMasters.com to help wine lovers better understand, appreciate and enjoy Champagne. We hope that the website's rich conversations and educational tools will help grow the category and inspire a new generation of consumers to dive deeper into this storied beverage," said Jon Potter, CMO & EVP Brands at Moët Hennessy USA.
ChampagneMasters.com will continue to evolve over time, becoming an indispensable tool for every aspiring champagne master.
Link:  http://www.champagnemasters.com
Add to Home Screen Instructions: Follow these instructions to place a Champagne Masters icon on your phone's home screen.
Open your smartphone's web browser and visit: http://www.champagnemasters.com
iPhone: Tap the center button at the bottom nag of your browser. Then select 'Add to Home Screen'
Android: Tap the menu button on either your device or the browser. Then select 'Add to Home Screen'
About Moët Hennessy USA:
MOËT HENNESSY USA is the leading importer and marketer of luxury wines, spirits and champagnes in the U.S. The Moët Hennessy portfolio includes renowned brands such as: Hennessy Cognac; Moët & Chandon, Dom Pérignon, Krug, Veuve Clicquot and Ruinart Champagnes; Belvedere vodka; Grand Marnier; Glenmorangie and Ardbeg single malt Scotch whiskies; and fine wines, including Chateau d'Yquem, Cape Mentelle, Cloudy Bay, Newton Vineyard, Numanthia, Terrazas and Domaine Chandon California sparkling and still wines. Moët Hennessy has a strong consumer focus with an uncompromising commitment to building luxury brands. CONTACT: Samantha Barnes for Moët Hennessy USA, 212-251-8430 or samantha.barnes@mhusa.com.
SOURCE Moet Hennessy USA
RELATED LINKS
http://www.champagnemasters.com