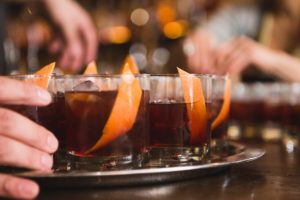 During its long and rich history, Port has earned an army of enthusiasts, who have discovered many ways to enjoy this fortified wine, from serving it with dessert to using it as a base in elegant cocktails.
Produced exclusively in the Douro Valley in the Northern provinces of Portugal, the first shipments of Port were recorded in 1678, taking its name from the coastal city of Oporto from which it is traditionally exported. To this day, Port is considered one of the oldest protected wines in the world, and this sweet, smooth wine created by adding a neutral distilled spirit to the rich red wines of the region harkens back to the tastes of the 17th century British gentry, who were Port's first fans.
One of the oldest Port houses is Taylor Fladgate, which is celebrating its 325th anniversary this year. Established in 1692, Taylor Fladgate commemorates this milestone by releasing a nod to Port's history: Taylor Fladgate 325th Anniversary Reserve Tawny Port, a special blend of fine oak-matured Ports selected for their depth and richness of flavor, and offered in a 1692-style bottle that will appeal to history and wine buffs alike.
"Our history is often the history of Port itself, because in 325 years we have always been in the front line," says Adrian Bridge, managing director of Taylor Fladgate. "Port is one of the great classics in the wine world today, partly due to Taylor Fladgate's tireless work throughout generations."
Traditionally, Port wines are served towards the end of the meal with cheese, as a dessert wine, or as an after-dinner drink. It is popular to enjoy a slightly chilled glass of tawny port with nut-based desserts like pecan pie or biscotti, and can also be enjoyed in a cocktail:
Ingredients
• 2 oz. Taylor Fladgate 325th Anniversary Reserve Tawny Port
• 1 oz. Clement 6yr Aged Agricole Rhum
• 1 dash mole bitters
Directions
Combine all ingredients in a mixing glass and add ice. Stir to chill and dilute. Strain into a double old fashioned glass with a large ice cube, and garnish with grapefruit peel.
For more information and recipes, please visit taylor.pt.
This season, celebrate Port's rich history and complex flavor. There are a wide variety of styles of Port and each has its own characteristic flavors. (State Point)
*****
———————————————–
———————————————–
PHOTO SOURCE: (c) Nader Kouri