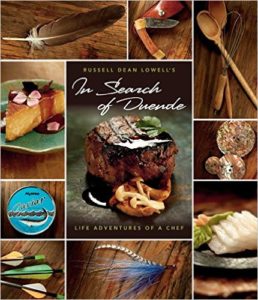 I recently read In Search of Duende, Life Adventures of a Chef, by Russell Dean Lowell. Russell is the owner and chef of Russell's Restaurant in Bothell, Washington which is just up the road from me. The book is a mix of his life's story, travel adventures, recipes, and his search of Duende. It's a Spanish word hard to define; "an extra something that intrigues and surprises." We read about his early years in Cuba, his travels, his passion for hunting, and for food.
One of my favorite parts of he book is his story behind the pink apron that he wears as a tribute to his mother, Marilyn, who passed away from cancer. She had made the pink aprons for his cooking classes and he kept the pink aprons going to heighten awareness of cancer research.
I might try and make a few of the recipes but I'll probably just go up the road and have Russell cook for me. I'd really like that Chocolate Cake with Raspberry filling that he made for Hillary Clinton's birthday.