WOODINVILLE, Wash., May 18, 2016 /PRNewswire/ — Winemakers from seven countries will converge at Riesling Rendezvous in Seattle on July 17th, giving wine lovers an unprecedented opportunity to explore the finest Rieslings from around the world in one location.  Hosted by Chateau Ste. Michelle of Washington state and Dr. Loosen estate of Germany, the Riesling Rendezvous Grand Tasting will be held on the picturesque grounds of Chateau Ste. Michelle in Woodinville, Wash.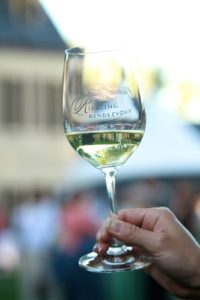 More than 70 wineries from Australia, Austria, Canada, France, Germany, New Zealand, California, Idaho,Michigan, New York, Oregon, and Washington will showcase an extraordinary lineup of more than 250 Rieslings. (Many winemakers will also bring a "surprise wine" from their estates.)  Guests will savor Riesling friendly food from popular Seattle food trucks including Barking Frog, Snout & Co. and Jemil Caters, as well as appetizers prepared by Chateau Ste. Michelle Executive Chef Janet Hedstrom and the winery's culinary team.  The event will also feature live music by Six Over Four.
Tickets are $85 General Admission (5-8 pm) and $125 VIP limited availability (4-8 pm).  Tickets are available online at 2016 GrandTasting.RieslingRendezvous.com. (Attendance is limited to ages 21 and older.)
"Riesling Rendezvous has grown into the largest event dedicated to Riesling in the United States," says Ted Baseler, president and CEO of Ste. Michelle Wine Estates.  "We are extremely fortunate to have some of the most renowned Riesling winemakers in the world sharing their stellar wines to demonstrate the great attributes and diversity of Riesling."
The Grand Tasting is part of the 5th Riesling Rendezvous, a three-day event designed to bring together leading experts and producers to explore the versatility of Rieslings from around the world, discuss issues and opportunities surrounding the advancement of Riesling, and forge alliances among producers and Riesling enthusiasts. The trade tastings on July 18 & 19 will be held at Bell Harbor International Conference Center inSeattle and feature in-depth seminars led by distinguished speakers on topics such as: climate trends impacting Riesling, the diversity of Australian Riesling, the essential elements of dry Riesling, tips from the pros on selling Riesling, Alsace's diverse terroir, and demonstrations pairing Riesling with cheese and salmon, Riesling cocktail tastings…and more! Limited tickets are still available for the 3-day package at rieslingrendezvous.com
Nearly two decades ago, Chateau Ste. Michelle, North America's leading Riesling producer, teamed up with Ernst Loosen, famed Riesling winemaker from the Mosel, to collaborate on an ultra-premium Washington Riesling called Eroica.  Riesling Rendezvous was born out of this special partnership's commitment to promote the extraordinary nature of Riesling.  Riesling Rendezvous is held every three years and is a member of the Riesling Coalition that brings events to North America, Australia and Germany on a rotating basis.
Riesling Rendezvous Grand Tasting Participating Producers:
Australia
Frankland Estate
Grant Burge Wines
Jim Barry Wines
Mac Forbes Wines
Pikes
Rieslingfreak
Austria
Boutique Winery Clemens Strobl
Emmerich Knoll
F.X. Pichler
Malat
Canada
Cave Spring Cellars
Hidden Bench Vineyards & Winery
Kitsch Wines
Little Farm Winery
Synchromesh Wines
Tantalus Vineyards
von Mandl Family Estates
France
Albert Mann
Domaine Loew
Famille Hugel
Meyer-Fonné
Paul Blanck
Schlumberger
Germany
Ansgar Clüsserath
Balthasar Ress
BattenfeldSpanier
Christmann
Dönnhoff
Dr. Bürklin-Wolf
Dr. Loosen
Egon Müller-Scharzhof
Fritz Haag
Leitz
Maximin Grünhaus
Oekonomierat Rebholz
Robert Weil
Wittmann
New Zealand
Framingham Wines, Ltd.
United States
California
Balo Vineyards
Maidenstoen Wines
Stirm Wine Co.
Idaho
Cinder Winery
Michigan
Black Star Farms
Mari Vineyards/Scriptorium Wines
New York
Anthony Road Wine Company
Boundary Breaks
Dr. Konstantin Frank Winery
Fox Run Vineyards
Ravines Wine Cellars
Red Newt Cellars, Inc.
Sheldrake Point Winery
Wagner Vineyards
Oregon
Brooks
Elk Cove Vineyards
Tunkalilla Vineyard

Washington
Charles Smith Wines
Chateau Ste. Michelle
Pacific Rim
Snoqualmie Vineyards
The Woodhouse Wine Estates
Tsillan Cellars
Tulip Valley
Regional Sponsors:
Alsace Wines: Allimant-Laugner, Bott-Geyl, Dirler-Cadé, Emile Beyer, Frederic Mallo, Léon Beyer, Pierre Sparr, Willm
Wine Australia: Eden Road, Glaetzer Dixon Family Winemakers, Grosset, Kilikanoon, Pewsey Vale, Pressing Matters, St Hallett
Idaho Wine Commission: Cinder Winery, Colter's Creek Winery, Pend d'Oreille Winery, Sawtooth Winery, Ste. Chapelle Winery
Oregon Riesling Producers: Alexana, Argyle, Brandborg, Brooks, Chehalem, Elk Cove Vineyards

About Chateau Ste. Michelle
Founded in 1934, Chateau Ste. Michelle pioneered vinifera grape growing in Washington state and has been producing classic European varietal wines under the Ste. Michelle label since 1967. The winery combines an ongoing dedication to research with a commitment to classic winemaking traditions. The winery owns 3,500 acres of vineyards in the Columbia Valley of eastern Washington, including Canoe Ridge Estate and Cold Creek, which are LIVE and Salmon Safe certified. Chateau Ste. Michelle enjoys winemaking partnerships with two of the world's most distinguished vintners.  Col Solare is an alliance with Tuscany's Piero Antinori and Eroica Riesling is a partnership with the Mosel's Ernst Loosen.
Chateau Ste. Michelle has been a champion of Riesling for more than 45 years and was among the first to plant Riesling in Washington state.  Ste. Michelle was catapulted into the national spotlight when its 1972 Johannisberg Riesling won the now-famous blind tasting of nineteen White Rieslings sponsored by the Los Angeles Times.  Today, Chateau Ste. Michelle offers up to 10 different Riesling styles designed to showcase the versatility of Riesling and the regional styles within Washington's Columbia Valley, which produces more Riesling than any other American wine region.
About Dr. Loosen Estate
The Dr. Loosen estate has a 200-year tradition of producing Riesling in Germany's Mosel region. With his modern world view and his traditional approach to winemaking, Ernst Loosen strives to produce wines that unmistakably express the character of Riesling and of the vineyards where they are grown.  Decanter magazine named Ernst Loosen 2005 "Man of the Year" for his perseverance in promoting and producing great Rieslings around the world.
Riesling Rendezvous is a registered trademark of Ste. Michelle Wine Estates Ltd.