Rel'Lish™ Burger Lounge Opens at Seattle-Tacoma International Airport
Chef Kathy Casey brings her newest dining concept to Seattle travelers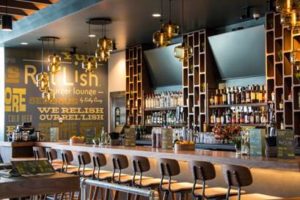 The new Rel'Lish Burger Lounge, Sea-Tac Airport's Concourse B
SEATTLE — Exclusive new burgers and signature cocktails have now landed at Seattle-Tacoma International Airport. Celebrated Seattle chef andburger connoisseur Kathy Casey, in partnership with global restaurateur HMSHost, have opened Rel'Lish Burger Lounge on Sea-Tac Airport's Concourse B.
Rel'Lish Burger Lounge is a new concept inspired by Kathy Casey's motto that great food doesn't have to be complicated to be delicious. The chic, full-service restaurant features a variety of unique burgers, each built with creative toppings like the Over the Top Cheese Burger  layered with house-made cheddar ale spread crafted with Pike Place Ale, Tillamook pepper jack cheese, and hot Cheetos; as well as the Banh Mi Burger topped with pickled red onions, jalapeño, cucumber, herb lettuce, and spicy soy aioli.
The Rel'Lish Burger Lounge, Over-The-Top Cheese Burger
In addition to more than a half-dozen burger options, travelers can enjoy a unique range of salads including the Beet and Arugula Salad with rosemary marcona almonds, pickled onions, goat cheese, and apple vinaigrette. Other signature items include the Cheeseburger Cheeseburger…Soup – yes, a soup that is topped with fries and pickles.
Casey, known for her cocktails, offers a wide selection of drinks at the bar where guests can enjoy hand-crafted cocktails using local spirits and Cocktails On Tap made with premium spirits and fresh juices such as the Northwest Berries & Bubbles featuring Oregon's Crater Lake vodka, fresh lemon elixir, topped with a splash of Chateau Ste. Michelle sparkling wine and NW berries. There is also an assortment of local craft beer and regional wine.
Rel'Lish Signature Cocktails On Tap
Casey commented, "I'm so excited to open Rel'Lish Burger Lounge at Sea-Tac Airport. As a frequent traveler myself, I wanted to not only offer crave-able burgers but also unique salads for those looking for something lighter. At Rel'Lish, there is something for everyone – guests can order any burger with an Impossible Burger plant based patty and in addition to our brioche buns we are also offering gluten-free buns and a bunless burger option."
"Local ingredients like Mama Lil's Peppers and Dish D'Lish Washington Apple Chutney will also be featured throughout the menu not only in the food but also in the drinks – as my motto has always been to incorporate the freshness of the kitchen into the bar," said Casey who is often lauded as the original Bar Chef.
Morning travelers can treat themselves to a variety of breakfast offerings such as tasty breakfast sandwiches like the Brunchin' Burger  topped with an egg and served with hollandaise for dipping, as well as The Chicken N' Rooster Breakfast Sandwich with scrambled egg, Sriracha cream cheese, tomato, and arugula on a brioche bun. Wash it down with a signature Rel'Lish Bloody Mary made with local Aloo vodka and garnished with a pickled Washington green bean, asparagus, and pepper – you can also upgrade with a pepperoni straw!
Rel'Lish Bloody Mary and a Double Piggy Breakfast Sandwich
The restaurant offers a relaxing and inviting atmosphere with beautiful wood finishes and a mid-century modern flair as well as natural light flowing in from the floor to ceiling windows overlooking the tarmac – perfect for plane watching and enjoying a meal and drink.
For travelers in a hurry, there is a convenient burger to-go window and a Food T' Go-Go® grab-and-go case featuring healthy options from sister brand Dish D'Lish®. From breakfast, to lunch, to dinner, or a quick cocktail, guests will be able to Rel'Lish the Moment™ any time of day.
Rel'Lish Burger Lounge joins Kathy Casey's other airport dining location, Dish D'Lish which is located in Concourse C.
……………………………………….
About Kathy Casey
Kathy Casey is the owner of Dish D'Lish, Rel'Lish Burger Lounge and Kathy Casey Food Studios – Liquid Kitchen, a global food, beverage, and concept development agency. Kathy is a celebrated chef, mixologist, and authority on bar trends and innovation. An engaging speaker, Kathy is a frequent presenter at national and international conferences. She has been featured in publications such as The Wall Street Journal, The New York Times, and Food & Wine Magazine. A James Beard nominated and award winning author, she has written 10 books. Casey's company is a woman owned business and a Seattle Mayor's Small Business Award Winner. Follow Kathy's d'lish adventures on Facebook or on Twitter/Instagram at @KathyCaseyChef.
About HMSHost
Global restaurateur HMSHost is a world leader in creating dining for travel venues. HMSHost operates in more than 120 airports around the globe and 99 travel plazas in North America. The Company has annual sales in excess of $3.1 billion and employs more than 39,500 sales associates worldwide. HMSHost is a part of Autogrill Group, the world's leading provider of food & beverage services for people on the move. With sales of over €4.5 billion in 2016, the Group operates in 31 countries and employs over 57,000 people. It manages approximately 4,000 stores in about 1,000 locations worldwide. Visit www.HMSHost.com for more information.
#RelLishTheDay  #RelLishTheMoment #RelLishSeattle