So this is what a box of 500 corks looks like. If you are like me and collect corks with the intention that you really "will do something with them" but don't, here is an alternative. Cork Club offers free shipping so you have no excuses not to clean out all those corks.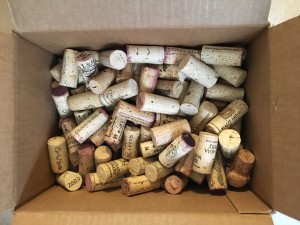 A little bit about Cork Club from their site:
CORKCLUB is a sustainability initiative funded by WIDGETCO to benefit Forest and Ocean Conservation.WIDGETCO has been a leading recycler of used wine corks since 2007. Our objective is to increase the recycling of used wine corks by collecting your corks and donating to help preserve the Earth. You enjoy the wine and CORKCLUBrecycles your corks. For each natural cork received, we donate 2 cents each (less shipping and carbon offsets). For each synthetic cork we receive, we see it gets recycled. It's a simple project with an ambitious goal, to help every wine cork get recycled while benefiting Forest and Ocean Conservation.