CHICAGO, Feb. 4, 2016 /PRNewswire/ — Select Italy, the web-based boutique travel company, boasts an exclusive food & wine portfolio thanks to a partnership with distinguished and prestigious Italian wine brands. Select Italy's collaboration with Italy's finest wineries consists of vacation packages, winery visits, and exclusive stays in historic family's estates. In order to introduce travelers and wine lovers to the Italian wine families and territories, the travel company created an initiative called 'How to Pronounce Italian Wines,' involving its partner wineries and their protagonists.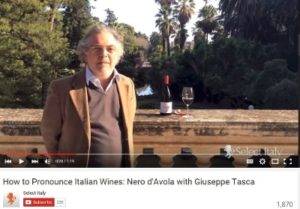 "We are thrilled at the outcome of this initiative, and when our partner wineries started submitting their videos, it was wonderful to watch how much creativity they put in this project," says Beatrice Sartori, International Communication and Marketing Specialist at Select Italy. "Besides showing the pronunciation of Italy's finest wines, these videos demonstrate the passion and culture behind the Italian wine world and its families."

The 'How to Pronounce Italian Wines' YouTube series is a collection of videos made by Select Italy and its partner wineries to share the correct pronunciation of Italian wines, while introducing the history and tradition of their territories. The videos were presented first in Select Italy's Blog, Espresso, and are now all available on the company's YouTube channel. The partner wineries that took part in Select Italy's nouinitiative are: Cantine Ferrari, Tenute Lunelli, Cupano, Allegrini, Ricci Curbastro, Tenuta di Fessina, Tasca D'Almerita, Lamole di Lamole, Kettmeir, Santa Margherita, Falesco, Antinori, and Bastianich Winery.
The 'How to Pronounce Italian Wines' video collection can be found on the company's YouTube channel. For more information about Select Italy, visit selectitaly.com or send an email to info@selectitaly.com
Press contact:
Beatrice Sartori
Toll-free: (800) 877-1755
Email
About Select Italy
Select Italy® is The Ultimate Source for Travel to Italy® and offers a wide array of superior Italian travel products and services, including customized itineraries, state-of-the-art tours and packages, wedding/honeymoon trips, unique culinary classes, a complete pre-departure ticketing service for museums and musical events, private guided services, yacht charters, transportation, hotel reservations, villa bookings and more. Through a vast network of suppliers and cultural contacts, anything and everything you need for optimum travel to Italy is possible with Select Italy. Based in Chicago with an office in New York and Shanghai and support staff in Italy, the company has expanded its offerings and travel services to the Balkans with the launch of Select Croatia®.
SOURCE Select Italy
RELATED LINKS
http://selectitaly.com