I'm ready to pack my bags for any of these trips.
Just like art, food is considered a cornerstone of culture in Italy. Each of the 20 regions ofItaly has an iconic dish, which represents the territory and embodies tradition. Travelers going to Italy never miss the opportunity to include a foodie experience in their itinerary but the Italian culinary offer is so wide and rich that it allows gastronomy to become the focus of an entire vacation. Select Italy (selectitaly.com), the boutique travel company specialized in the Bel Paese, presents three vacation experiences tailored to explore Italy from a foodie angle.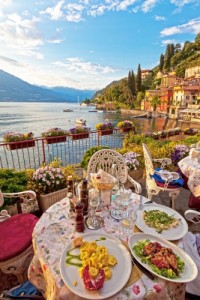 Abruzzo Foodie Heaven – Located in central Italy, the Abruzzo region is an off the beaten path option and the rising star for foodies and for those who seek an authentic country experience. This 6-night vacation package includes everything a food lover can ask for and much more: cultural guided tours, winery and farm visits, olive tastings, cooking classes, and transportation.
Full Immersion in Southern Italian Gastronomy – This one-week experience takes place in the Sorrentine peninsula within the cities of Sorrento, Positano, and Sant'Agata Sui Due Golfi. A total immersion culinary program for those who think a single cooking class would not be enough! The cooking adventure includes excursions to sites of cultural and gastronomic interest in Sorrento and Positano.
Fresh and Sicilian: The Healthy, Tasty Roots of Sicilian Cuisine– A 3 or 5-day cooking course at Tasca d'Almerita's Regaleali estate in Sicily. The culinary experience is paired with winery visits and tours of the surrounding area.
"The International Culinary Tourism Association defines food tourism as 'the pursuit of unique and memorable eating and drinking experiences' and I cannot think of a better place than Italy to accomplish this goal," says Beth Rubin, Manager of Custom Travel Planning at Select Italy. "We tailored these packages to allow our clients to experience and explore Italy through its food and culinary tradition."
For further information about Select Italy travel products, visit selectitaly.com or send an email to info@selectitaly.com
About Select Italy
Select Italy® is The Ultimate Source for Travel to Italy® and offers a wide array of superior Italian travel products and services, including customized itineraries, state-of-the-art tours and packages, wedding/honeymoon trips, unique culinary classes, a complete pre-departure ticketing service for museums and musical events, private guided services, yacht charters, transportation, hotel reservations, villa bookings and more. Through a vast network of suppliers and cultural contacts, anything and everything you need for optimum travel to Italy is possible with Select Italy. Based in Chicago with an office in New York and Shanghai and support staff inItaly, the company has expanded its offerings and travel services to the Balkans with the launch of Select Croatia®.