A great trip to Scotland, Norway, and Denmark with Wine Diva Deb. Click here for more details and the itinerary.
Join Wine Diva Deb on the newly renovated Azamara Journey starting in Edinburgh Scotland and cruising to the North Cape. And why not make it an experience of a life time by doing a back to back voyage to the Baltic. The cruise starts in Edinburgh, Scotland, and you may not want to leave. Arrive early so you can take in all the beauty and history, including the Edinburgh Castle perched atop the city. Or get in a round of golf in the land where golf was born. Then you've got a ship to catch.
The wooden city of Bergen, Norway, is an enchanting destination. Listen to hometown composer Edvard Grieg's "Hall of the Mountain King" and you'll know exactly what to expect – the old Hanseatic wharf, peak-roofed wooden buildings, mountains, fjords, and maybe a troll or two. Enjoy a sightseeing tour that is highlighted by a cable car ride to the top of Mount Floyen. There's a late stay here, because at night, when the harbor is lit up, it's one of the loveliest cityscapes in northern Europe.
Sail all the way up the Geiranger Fjord to the village of Geiranger: the Seven Sisters Waterfall and Mount Dalsnibba's summit have the view that made Norway famous. In Honigsvåg, the last village before the North Cape, you can experience the last of the midnight sun with a toast in a bar made of ice.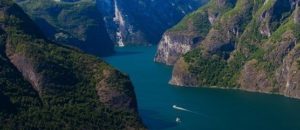 No North Cape journey could be complete without seeing a glacier, and in Olden, hike a portion of one or sail on emerald-green lakes created by one. Either way, the scenery is unlike anything you've ever seen. The last stop is Skagen, Denmark's northern tip, where the light still draws artists and the sunsets are so amazing – when the sun finally decides to set.