I always say that there is a wine for every occasion.
Leave the corkscrews and glassware behind this summer because Lila Wines are changing the game! Whether you're hitting the beach, boat or backyard BBQ, Lila Wines are an effortless way to enjoy premium wine by offering the first and only canned versions of the popular wine varietals, Provence Rosé, Marlborough Sauvignon Blanc and Italian Pinot Grigio.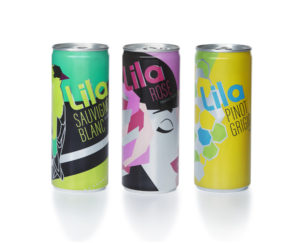 Derived from the ancient Sanskrit word for "play like the gods," and packaged in bright and playful pop art inspired cans, Lila Wines are a carefree and stylish way to enjoy high quality wine anywhere life takes you. All Lila Winesare naturally gluten free, low in calories and carbs, and contain no added sugar, making them the perfect on-the-go alternative to carb-filled beers, ciders, and malt beverages. Each 8.4 oz. aluminum can is coated with a custom lining developed specifically to maintain the quality and unique characteristics of each varietal, resulting in guaranteed fresh wine.
"Lila Wines are for active, adventurous wine drinkers who value convenience but don't want to sacrifice quality," said Kevin Mehra, president and co-founder of Latitude Beverage Company. "Keeping with our mission of providing premium quality wine at a lower price point, canning the varietals that consumers love is very important to us. We are confident Lila Wines will be the life of the party this summer season and beyond, making wine more accessible, versatile and fun."
Lila Wines are rolling out across the country this summer, first available at retail locations in the following 35 states: AL, AZ, CA, CO, CT, DC, DE, FL, GA, IA, ID, IL, IN, MA, MD, ME, MI, MN, MO, MT, NC, NH, NJ, NM, NV, NY, OH, OR, RI, SC, TX, VA, VT, WA and WI. Lila Wines can also be purchased online with direct shipping to 32 states. Available in four-packs of 8.4 oz. cans with an MSRP of $12.99, each Lila Wines package contains 33% more wine than a standard 750ml bottle and is 12-12.5% ABV depending upon varietal. Lila Wines are packaged in 100% recyclable materials. For additional information about Lila Wines, visit www.LilaWines.com, follow us @LilaWines on Facebook, Twitter and Instagram.
ABOUT LATITUDE BEVERAGE COMPANY:
Latitude Beverage Company (LBC) was founded in 2007 when Kevin Mehra saw an opportunity to make high-end wine more accessible to a greater number of people by transforming oversupply at wineries into lower prices for consumers. This unique business model based on the centuries-old function of the négociant became the foundation for 90+ Cellars, launched in 2009 by Kevin and co-founder Brett Vankoski. This same model has enabled LBC to expand its portfolio with five additional labels—Iron Side Cellars, Magic Door Vineyards, Earthshaker Wines, Mija Sangria and now Lila Wines.