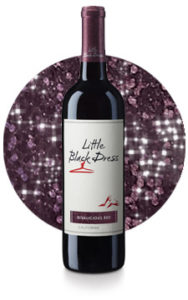 This Mother's Day, Little Black Dress Wines are celebrating the women in our lives: grandmothers, wives, sisters, daughters. Raise a toast to these special ladies with the perfect gift for mom: Little Black Dress wine!
According to the Wine Institute, women make up 52% of the adult population and purchase 57% of the wine consumed in the US. Little Black Dress wines are made by a woman, for women. Winemaker Zidanelia "Z" Arcidiacono crafts these wines with a "feminine touch" in a fruit-forward style with the female palate in mind.
On May 10, get into a Little Black Dress wine, accessorized with fruit-forward aromas, hints of dazzle, an impeccable sense of balance and a body to die for. Great taste is mom's best accessory. Little Black Dress Wines cover every mood from spirited to sophisticated and turning heads along the way.
The company got its name from the iconic little black dress, known to be simply timeliness, playful yet elegant and ready for anything at a moment's notice. With grapes from California, Little Black Dress is a wine that is appealing to classic fashionably-minded women. Masterfully created by the talented winemaker Zidanelia "Z" Arcidiacono, the Little Black Dress family of wines (including Chardonnay, Cabernet Sauvignon, Divalicious Pink Pinot, Divalicious Red, Merlot, Moscato, Pinot Grigio, and Pinot Noir) are versatile and timeless. www.lbdwines.com