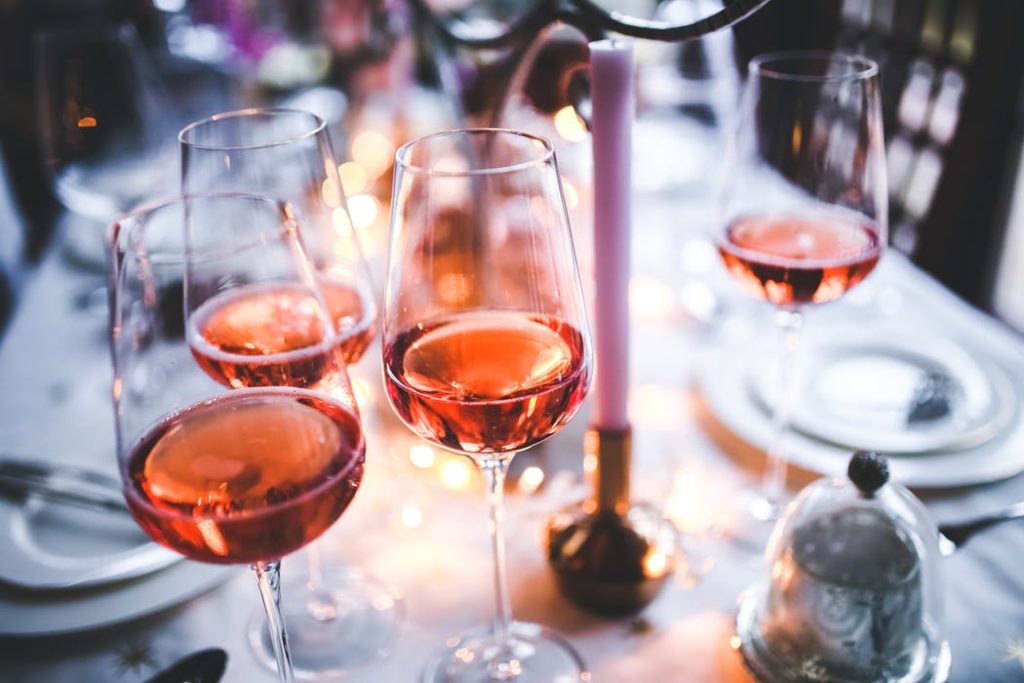 Rosé Piscine, a rosé specifically made to drink over ice, offers fun activities to celebrate National Wine Day
NEW YORK, NEW YORK – (May 13, 2019) – America loves to drink wine. In fact, it's estimated by the Wine Institute that over 949 million gallons of it are consumed each year in the country, averaging out to nearly three gallons of wine for each resident. Wine enthusiasts have two holidays they can observe for the drink that novelist Robert Louis Stevenson called "bottled poetry." May 25, 2019 is National Wine Day, and June 8, 2019 is National Rosé Day.

"There's a camaraderie that wine lovers have, because all they all share in their appreciation for great wine," explains Blake Helppie, managing partner at Rosé Piscine, a wine specifically made to drink over ice. "If you have never had a special event or activity to observe the day, you are missing out. Make this a year that you mark the day with some fun in it s honor."
Millions of people around the country have what is referred to as oenophilia, which is the love of wine. The two upcoming days dedicated to celebrating wine provide a great reason to have a fun wine-related event or activity with friends and family. Here are some fun ways to celebrate National Wine Day:
Wine trivia night. Gather up lots of fun facts and interesting wine trivia and hold a wine trivia night. Divide everyone up on teams or play individually. Have everyone bring wine or foods and snacks that pair well with them, and have a fun time. Reserve a special bottle of wine for the trivia winner.
Host a wine bottle exchange. Invite people to bring a bottle of wine to a swap, where they can exchange it with others. This gives people a chance to try something new, and maybe offload something hanging out in their cooler that they would rather swap.
Have a sip and paint party. Gather at a restaurant or art center, or host it at your house and invite an art teacher to come lead the class. Sip some wine while you paint a masterpiece you can take home with you.
Schedule a neighborhood wine walk. Get to know some of your neighbors by getting people in on a neighborhood wine walk. If you get 5-10 houses to take part, have people walk house to house mingling and trying different wines at each one.
Create a local wine club. Use the wine holidays as a kick-off to creating a local wine club. Have members meet up once per month at someone's house to share wine and conversation.
Host a lawn game night. With nicer weather upon us, it's a great time to invite people over for a lawn game and wine night. Gather some favorite adult lawn games, such as corn hole, and have a sipping good time.
Have an outdoor wine movie night. Get an outdoor projector and show a wine-themed movie as people sip wine. Wine movies to consider include "A Walk in the Clouds," "Somm," and "Bottle Shock."
"With two days dedicated to wine coming up, make a goal to have some fun with it," added Helppie. "Not that we need an excuse to enjoy some wine among friends, but it's a nice way to set the tone, enjoy the evening, and observe the holidays."
Rosé Piscine is a French wine that was made to always be served on the rocks. Rosé Piscine is made by Pascal Nacenta in southwest France. The tasting notes include being pale salmon in color, with a light to medium body. On the bouquet, it offers notes of Meyer lemon, skin of peach, vanilla, kiwi and McIntosh apple. Rosé Piscine is made with an indigenous varietal of southwest France: Négrette, which is a small, very dark and tough-skinned grape known for its powerful aromatic qualities. The fruit is sourced in Côtes du Frontonnais, which is located just southwest of Gaillac and just north of the city of Toulouse, on the western bank of the Tarn River. Wine Enthusiast awarded the Rosé Piscine region the Wine Region of the Year 2017 award.
Rosé Piscine was created by Jacques Tranier, the president of Vinovalie, a group of producers in the French Southwest. In 2003, he was on a vacation in Saint Tropez when he saw many women drinking rosé on the rocks. He ordered one to give it a try, only to be disappointed in the taste of the wine being diluted by the melting ice. This set him on a mission to create a rosé that could hold its integrity while being served over ice. To find a store near you or to order online, visit the site at: www.rosepiscine.com.
About Rosé Piscine
A unique rosé wine in that it was created to be served over ice, Rosé Piscine is taking the nation by storm. Over two million bottles of it were sold in France and Brazil last year, and it is now available in the U.S. Rosé Piscine is pale salmon in color, light to medium body, and made from Négrette, a small grape known for its powerful aromatic qualities. For more information on Rosé Piscine or the company, visit the site at: www.rosepiscine.com or visit @rosepiscine on Instagram.
# # #
Sources:
Wine Institute. Wine consumption in the US. https://www.wineinstitute.org/resources/statistics/article86