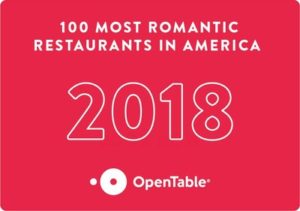 SAN FRANCISCO, Feb. 6, 2018 /PRNewswire/ — As we approach the year's biggest holiday for dining out with loved ones, OpenTable, the world's leading provider of online restaurant reservations and part of The Priceline Group (NASDAQ: PCLN), today unveiled the 100 Most Romantic Restaurants in America for 2018. These awards reflect the combined opinions of more than 12 million restaurant reviews submitted by verified OpenTable diners for more than 26,000 restaurants in all 50 states and Washington, D.C.

Highlighting winners in cities both large and small, the complete list showcases a diverse group of restaurants in 32 states and includes standouts, such as The Inn at Little Washington in Washington, VA, River Cafe in Brooklyn, NY and Stonehouse at San Ysidro Ranch in Santa Barbara, CA. North Carolina, Ohio and Virginia are tied at the top of the list, each boasting eight winning restaurants, followed by Florida with seven, New Jersey and Texas with six, New York, Tennessee and Washingtonwith five and Oklahoma with four. Alabama, California, Colorado, Maryland, Pennsylvania and South Carolina all claim three winners while Georgia, Massachusetts, Missouri, Nevada, Oregon and Rhode Island each have two.
Proving that the right atmosphere can help set the mood, this list features an assortment of intimate restaurants located on charming properties that provide the perfect backdrop for the occasion. While American flavors dominate in terms of cuisine at these romantic hot-spots – steakhouses, French and Italian fares are also popular.
"Valentine's Day is all about sharing food with loved ones. Whether enjoyed with a significant other, a friend, or with family, a delicious meal accompanied by elegant ambiance and superb service is the perfect way to celebrate," said Caroline Potter, OpenTable Chief Dining Officer. "Be it February 14th or any time you want to connect with someone in your life, this year's winning restaurants have created the ideal spots for intimate dining experiences."
The list of the 100 Most Romantic Restaurants in America is generated solely from more than 12 million verified OpenTable diner reviews collected between December 1, 2016 and November 30, 2017. All restaurants with a minimum "overall" score and number of qualifying reviews were included for consideration. Qualifying restaurants were then scored and sorted according to the percentage of reviews for which "romantic" was selected as a special feature.
Based on this methodology, the following restaurants, listed in alphabetical order, comprise the 100 Most Romantic Restaurants in America for 2018 according to OpenTable diners. The complete list may also be viewed at: https://www.opentable.com/m/100-most-romantic-restaurants-2018/
100 Most Romantic Restaurants in America for 2018
Altius – Pittsburgh, Pennsylvania
Ariana –  Bend, Oregon
Arrowleaf Bistro – Winthrop, Washington
Babette's Cafe – Atlanta, Georgia
BakerStreet – Fort Wayne, Indiana
Bartolotta's Lake Park Bistro – Milwaukee, Wisconsin
Baxter's Lakeside Grille – Lake Ozark, Missouri
Benvenuti's – Norman, Oklahoma
The Bistro at Gervasi Vineyard – Canton, Ohio
Bistro L'Hermitage – Woodbridge, Virginia
Bistro San Martin – Arlington, Washington
Black Cat – Boulder, Colorado
Bob's Steak & Chop House* – Multiple Locations
Bolete Restaurant – Bethlehem, Pennsylvania
Bookbinder's Seafood and Steakhouse – Richmond, Virginia
Bouchard Restaurant and Inn – Newport, Rhode Island
Café Monarch – Scottsdale, Arizona
Cafe Provence – Prairie Village, Kansas
Caprice Bistro – Wilmington, North Carolina
Carlo & Johnny – Cincinnati, Ohio
Chandlers Steakhouse – Boise, Idaho
Charleston – Baltimore, Maryland
Charleston Grill – Charleston, South Carolina
Chez Francois – Vermilion – Vermilion, Ohio
Christopher's World Grille – Bryan, Texas
Circa 1886 – Charleston, South Carolina
Claire's at the Depot – Warrenton, Virginia
Collage Restaurant – St. Augustine, Florida
Connors Steak & Seafood – Huntsville – Huntsville, Alabama
Donatello – Tampa, Florida
El Gaucho – Tacoma – Tacoma, Washington
Enzo's on the Lake – Longwood, Florida
Erling Jensen The Restaurant – Memphis, Tennessee
Erminia Ristorante – New York, New York
The Fig Tree Restaurant – Charlotte, North Carolina
Flight Restaurant & Wine Bar – Memphis – Memphis, Tennessee
Folk's Folly Prime Steak House – Memphis, Tennessee
Four Winds Steakhouse – Wills Point, Texas
Franklinville Inn – Franklinville, New Jersey
Frog Hollow Tavern – Augusta, Georgia
The Gamekeeper – Boone, North Carolina
Geronimo – Santa Fe, New Mexico
Gracie's – Providence, Rhode Island
The Grill – The Ritz-Carlton, Naples – Naples, Florida
Hanover Street Chophouse – Manchester, New Hampshire
Harvest Beat – Seattle, Washington
Hugo's Cellar – Four Queens – Las Vegas, Nevada
The Inn at Little Washington – Washington, Virginia
The Ivy Inn Restaurant – Charlottesville, Virginia
Jeff Ruby's Steakhouse – Louisville – Louisville, Kentucky
Katherine's Steakhouse – Mesquite, Nevada
L'Auberge Chez Francois – Great Falls, Virginia
La Fable – Rehoboth Beach, Delaware
Latitudes on Sunset Key – Key West, Florida
Le Vallauris – Palm Springs, California
Le Yaca – Williamsburg, Virginia
Lemaire at The Jefferson Hotel – Richmond, Virginia
Lewnes' SteakHouse – Annapolis, Maryland
Mahogany Prime* – Multiple Locations
The Melting Pot* – Multiple Locations
Mizuna – Denver, Colorado
Mucca Osteria – Portland, Oregon
Nineteen61 – Lakeland, Florida
Nocturne – Denver, Colorado
The Ocean House Restaurant – Cape Cod – Dennis Port, Massachusetts
Orchids at Palm Court – Cincinnati, Ohio
Over The Moon Cafe – Tacoma, Washington
Oyster Loft – Pismo Beach, California
Paseo Grill – Oklahoma City, Oklahoma
Pellana – Peabody, Massachusetts
Peninsula Grill – Charleston, South Carolina
Perry's Steakhouse & Grille – Birmingham – Birmingham, Alabama
Peter Shields Inn – Cape May, New Jersey
Pier W – Cleveland, Ohio
The Precinct – Cincinnati, Ohio
The Prime Rib – Baltimore (The Original) – Baltimore, Maryland
Red Prime Steak – Oklahoma City, Oklahoma
The Refectory Restaurant & Bistro – Columbus, Ohio
Restaurant L – Cincinnati, Ohio
Restaurant Lorena's – Maplewood, New Jersey
Ristorante Lombardo – Buffalo, New York
River Cafe – Brooklyn, New York
Rudy & Paco Restaurant & Bar – Galveston, Texas
Russell's Steaks, Chops, and More – Buffalo, New York
Ryan's Restaurant – Winston-Salem, North Carolina
The Saddle River Inn – Saddle River, New Jersey
Saint Jacques French Cuisine – Raleigh, North Carolina
Scalini Fedeli – Chatham Chatham, New Jersey
Second Empire Restaurant and Tavern – Raleigh, North Carolina
Signature, Inspired by Chef Andrew Weissman – San Antonio, Texas
Southern Social – Germantown, Tennessee
St. John's Restaurant – Chattanooga, Tennessee
Stonehouse at San Ysidro Ranch – Santa Barbara, California
The Tailor and the Cook – Utica, New York
Tony's – St. Louis – St. Louis, Missouri
Truluck's Seafood, Steak and Crab House – Austin Arboretum – Austin, Texas
The Victor Cafe – Philadelphia, Pennsylvania
Vintage Year – Montgomery, Alabama
Washington Inn – Cape May, New Jersey
Webb Custom Kitchen – Gastonia, North Carolina
Diners can also read more about the 100 Most Romantic Restaurants in America as well as our #ValenDinesDay Valentine's Day giveaway by visiting the OpenTable blog.
About OpenTable Restaurant Reviews
Originally launched in November 2008, the OpenTable Reviews program helps diners find restaurants that best fit their dining occasions. Only diners who honored their restaurant reservation can submit a restaurant review. Visitors to OpenTable.com or the OpenTable app can access reviews for thousands of restaurant partners across the globe. The Reviews program has generated more than 60 million restaurant reviews by verified diners, establishing OpenTable as one of the largest and most trusted sources for restaurant reviews.
About OpenTable:
OpenTable, part of The Priceline Group (NASDAQ: PCLN), is the world's leading provider of online restaurant reservations, seating more than 24 million diners per month via online reservations across more than 43,000 restaurants. The OpenTable network connects restaurants and diners, helping diners discover and book the perfect table and helping restaurants deliver personalized hospitality to keep guests coming back. The OpenTable service enables diners to see which restaurants have available tables, select a restaurant based on verified diner reviews, menus, and other helpful information, and easily book a reservation. In addition to the company's website and mobile apps, OpenTable powers online reservations for nearly 600 partners, including many of the Internet's most popular global and local brands. For restaurants, the OpenTable hospitality solutions enable them to manage their reservation book, streamline their operations, and enhance their service levels. Since its inception in 1998, OpenTable has seated over 1.4 billion diners around the world via online reservations. OpenTable is headquartered in San Francisco and has bookable restaurants in more than 20 countries, including Australia, Canada, Germany, Ireland, Japan, Mexico, the Netherlands, United Kingdom and the United States. Restaurants are  available for reservations in Dutch, English, French, German, Japanese, and Spanish languages.
SOURCE OpenTable, Inc.
CONTACT: Lisa Singh, OpenTable, lsingh@opentable.com, 415-710-5333; Cristina Calzadilla, DKC Public Relations, Cristina_Calzadilla@dkcnews.com, 786-470-3778
RELATED LINKS
https://www.opentable.com