The Underground Wine Project + Pearl Jam's The Home Shows
"Home x Away" Wine Sold Out in 15 Minutes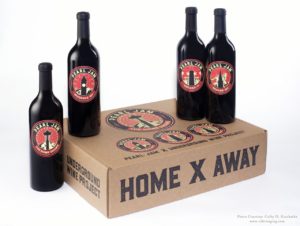 SEATTLE, July 17, 2018 — Washington winemakers, good friends, and huge Pearl Jam fans, Mark McNeilly and Trey Busch, didn't even give it a second thought when the opportunity to collaborate with Pearl Jam was presented.
The Home Shows, taking place in Seattle on August 8 and August 10, are Pearl Jam's first concert in Seattle in five years. The goal being to shine a spotlight on the problem and solutions to homelessness by joining a growing list of businesses, individuals, government agencies, and foundations who are collaborating to tackle the biggest public health crisis to hit the community in recent history. 
McNeilly and Busch immediately got to work bottling a limited quantity of Idle Hands, a Washington blend of 90% Syrah and 10% Cabernet Sauvignon grown in Red Heaven Vineyard on Red Mountain, that has become a cult favorite and launched their joint venture, The Underground Wine Project. 
The specially designed box sets titled "Home x Away" includes four bottles of Idle Hands, each with a different label designed by Pearl Jam, and packaged in a custom printed box. Cost is $150 and only 450 box sets were produced. 
Pearl Jam sent the information out in a newsletter on Tuesday, July 10 at 10am, and the box sets were completely sold out by 10:15am.
McNeilly and Busch are donating 100% of the proceeds to The Home Shows.
"We're totally stoked by the response," said Busch. "And honored to be part of this very important fundraising effort."
"Pearl Jam's philanthropic spirit is inspiring," adds McNeilly. "We're looking forward to writing that check." 
The Home Shows are a program of Pearl Jam's Vitalogy Foundation. Over the past 28 years the city of Seattle's population has grown by 40%. The region's homelessness population is now the third largest in the country, with over 12,000 people living without shelter on any one night. The Vitalogy Foundation is committed to helping find a solution for the homelessness issue in the city. To learn how to get involved or to make a donation, visit https://pearljam.com/thehomeshows/seattle-wa.
The Underground Wine Project is a collaboration between acclaimed Washington winemakers Mark McNeilly (Mark Ryan Winery) and Trey Busch (Sleight of Hand Cellars). Long time friends, the pair released their first collaboration wine, Idle Hands, in 2009. With only 100 cases produced, Idle Hands quickly became a cult favorite and the impetus for the launch of The Underground Wine Project. To learn more, visit www.theundergroundwineproject.com.
###