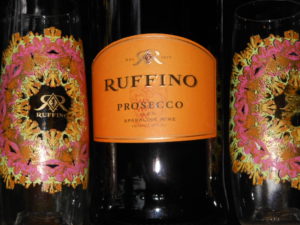 I have found the perfect way to drink wine on my patio, Govino glasses. These are a limited edition; Ruffino Prosecco Al Fresco Flutes by govino.  Ruffino, the beloved Italian winery,  partnered with govino to create a this set of limited edition "go-anywhere" flutes adorned by a vibrant summer design that epitomizes effortless summer fun.  They are great for the boat, pool, beach, or hot tub. Summer is not over and there is plenty of time for these great glasses. I never have to worry aobut breaking a glass. I'll be using them at outdoor events as they are light and easy to take with you. The Ruffino Prosecco was delicious in the glasses on my patio last night. You can order a set of four them through Amazon.com. 
Whether they be incorporated into a piece on your next summer drink feature, a run-down of this season's must-have wine accessories, or a gift guide for all of the stylish wine lovers out there, the Ruffino Prosecco al fresco Flutes by govino are the best way to give any wine-themed article an effortlessly fashionable twist. The flutes' vibrant colors and unique floral pattern add notes of elegance and style to a glass that is both versatile and durable, making it the ideal companion for everyone's favorite summer drink: Ruffino Prosecco.
The limited edition flutes by Ruffino and govino are available online at www.Ruffino.com. At $20 per 4 flutes, you pay a small price for the summer escape that the product provides.