I love R
osé all year long but it is my go to wine once the weather starts to get nice. There is nothing better than a glass of Rosé on the patio on a nice day. Rosé also pairs well with summer salads, nibbles on the patio,  and my favorite pairing is with salmon. 
Below are a few delicious examples of Rosés from around the world to help you find the perfect bottle to pair with a spring day.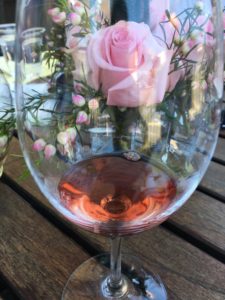 Alta Vista: Rosé 2015– SRP $12.99- Made with 100% Malbec, this Rosé has impressive reddish hues in color, with prevailing fruity aromas of ripe and sour cherries and floral notes of red roses. In the mouth, it has a persistent flavor and is markedly balanced, with remembrances of recently picked grapes. Wonderful alongside pasta dishes such as pesto and bright salads.
Masi Agricola: Rosa dei Masi 2015 – SRP $14.99- Rosé from the Veneto region- A new interpretation of the rosé wine category thanks to the use of Masi's specialty Appassimento technique. A fresh and fruity rosé wine, that is complex but also elegant. Made with 100% Refosco, the wine is soft pink with cherry-colored reflections. It has intense aromas of just ripened berry fruit on the nose, especially raspberries and wild cherries. Soft and well balanced with lively and refreshing acidity. This "SuperVentian" is excellent as an aperitif, with antipasti or seafood dishes.
The Seeker Rose 2015– SRP $13.99- Côtes de Provence—A classic dry Provence Rosé blending 50% Grenache and 50% Cinsault from vineyards influenced by the sea, sunshine and granite-schist soils. It is an elegant, fresh and delicately fruity wine which is refreshing on its own or pairs well with a wide variety of shellfish, salads, and berry-based dishes.
Chateau d'Aqueria Tavel Rose 2015– SRP $19.99- A serious rosé with impact and presence on the palate. It has great fullness and round with Chateau d'Aqueria's signature lingering, fresh finish, the expression of great terroir. It is the standard-bearer of the Tavel region. The wine is a grenache-based blend of grapes: Grenache Noir, Clairette, Cinsault, Mourvèdre, Syrah, Bourboulenc, Picpoul, which are typical of the southern Rhône Valley. Pair this wine with dishes of lamb curry, chicken in creamy sauces, bouillabaisse, paella, Asian cuisine, goat cheeses.