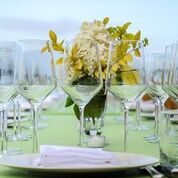 Auction of Washington Wine's Insider's Guide to
Celebrate Washington Winemakers
Everything you need to know about Washington's Premier Charitable Wine Weekend benefiting Seattle Children's Hospital and the Viticulture and Enology Program at Washington State University
OVERVIEW:   Indulge with a purpose at Washington's largest charitable wine weekend hosted by the Auction of Washington Wines to benefit Seattle Children Hospital and the Viticulture and Enology Program at Washington State University. Celebrate with Washington winemakers and sip on the state's most desirable and exclusive wines –more than 100 wines to choose from at the Winemaker Picnic. All events are 21+.
DETAILS:                     Thursday through Saturday, August 16 – 18, 2018    
WINEMAKER PICNIC & BARREL AUCTION
Thursday, August 16, 4:00 PM, Chateau Ste. Michelle Winery, Woodinville, Wash.
·         Meet the Winemakers: Mix and mingle with Washington winemakers at the largest wine charity event, the Winemaker Picnic, which is devoted to celebrating Washington state wines. Choose from more than 100 different wines, including new barrel samples from the region.  Guests will enjoy a unique opportunity to engage with winemakers to learn about their story, their approach to winemaking and what makes the wine they're pouring so special.
·         Grab a Nosh: Great wines deserve food that goes beyond traditional Picnic fare, and the talented chefs at Tulalip Resort Casino are bringing it. This year the unique menu is themed "Taking it to the Streets – Al Fresco International", and each food tent will be offering a tasty international bite.
·         Place Your Bid: Take your chance at the Barrel Auction and be one of five winning bidders to secure a future release wine or bid on an array of unique wine packages and experiences in the silent auction.
·         Tickets: $150 per person – all-inclusive food and wine tasting
WINEMAKER DINNERS
Friday, August 17, 6:30 PM – Located at private estates throughout the Puget Sound
·         Enjoy a unique dining experience hosted by a local chef with hand-selected wine pairings by the most beloved Washington state wineries. Participating wineries include: Reynvaan Family Vineyards, Leonetti Cellar, Quilceda Creek, and many more.
COLUMBIA WINERY CHARITY WALK & RUN – 10K RUN, 5K WALK/RUN 
Saturday, August 18 at 8:30 AM, Columbia Winery, Woodinville
·         Run for a cause, join the Run for Children's Guild for a 10K run, 5K run or kids dash through Woodinville wine country to raise funds for the uncompensated care at Seattle Children's Hospital. Of the 100,000 patients treated at Seattle Children's each year, 65 percent need financial assistance. It is expected that the need for uncompensated care will grow to exceed $120 million this year.
THE GALA
Saturday, August 18, 4:00 PM, Chateau Ste. Michelle Winery, Woodinville
·         Partake in the Auction of Washington Wines' grand finale and not-to-be-missed wine event where each table is hosted by a Washington state winemaker. Guests will experience a guided evening of curated wine-parings alongside a multi-course dinner served by renowned Seattle area chefs. The evening is filled with one-of-a-kind auction lots focused on wine, food, travel and unique experiences you can't find anywhere else.
·         Tickets: $500 per person
PRICE                            Cost range: $150 – $500 per person, depending on the event (full weekend packages are available at https://auctionofwawines.org/)
TICKETS                       http://auctionofwashingtonwines.maestroweb.com/
*50 percent of the retail ticket price is considered a donation to the beneficiaries and is tax deductible
MORE INFO               https://auctionofwawines.org/events/                 
CONTACT                   Madalyn Chau
                                       The Fearey Group for Auction of Washington Wines
                                       206-343-1543
# # #