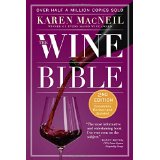 THE WINE BIBLE (Workman Publishing; October 2015) by Karen MacNeil has long been the most enlightening, comprehensive, and entertaining wine guide in the marketplace. Now it is completely revised and updated with new chapters on every wine region in the world, hundreds of new wines, and all-new maps and photos.
Hailed as "America's missionary of the vine" (TIME), MacNeil is considered one of only a handful of experts with a global command of wine. She has won numerous awards throughout her career, including the prestigious James Beard Award. While researching the second edition, she traveled the world and tasted over 10,000 wines, discovering new trends and exploring emerging wine regions such as China, along with new wine producers in Europe and South and Central America.
THE WINE BIBLE brims with MacNeil's knowledge and passion for her subject while artful, evocative descriptions bring each wine to life. Great Pétrus "is ravishing, elegant, and rich—Ingrid Bergman in red satin." Rieslings from Germany's Mosel region are "a laser beam. A sheet of ice. A great crackling bolt of lightning." Transporting you from the cool, forbidding landscape of China's Sichuan Province to the warm shores of the Sicilian Mediterranean, MacNeil delves into the history, food, wines, and wineries of each region. At over 1,000 pages, the book delivers:
The top regions of the world, including the well-known areas such as Bordeaux, Burgundy, and Tuscany, as well as up and coming producers like Japan, India, Mexico, China, and the Republic of Georgia
A helpful "Wines to Know" list for each region
History, geography, grape varieties, and how they all profoundly affect a wine's character
How to taste with focus and build a wine-tasting memory
Fun and informative explorations: How many bubbles are in Champagne and why; the intricacies of Port and Sherry; what makes a great wine great?; why dogs are important in the vineyard; are women better wine tasters than men?; the myth of cabernet and chocolate; and more!
Choosing great glassware, how to read a label, the way to store wine to keep it sound, plus a descriptive taste glossary of hundreds of important wine varieties throughout the world
Extensive sections on the traditional, tried-and-true food pairings for the wines of every major wine region
THE WINE BIBLE offers the ultimate education in wine from one of the most renowned experts of our time. It will inspire and educate every reader, be they new to wine or a longtime enthusiast.