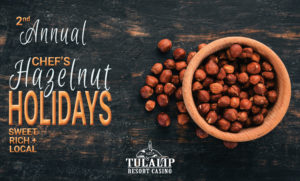 Tulalip Resort Casino Chefs Are Going Nutty for November

Dishes to Celebrate "Chef's Hazelnut Holidays" to Include Local Finds
Tulalip, Washington — Tulalip Resort Casino chefs are "hazel-nutty" with excitement this fall as they whip up their latest filbert-filled creations for new and returning guests. From salads and pasta to seafood and baked goods, these seasoned chefs have rounded up some creative recipes to share during Tulalip's second annual "Chef's Hazelnut Holidays," which will run through November 29, 2018.
Local hazelnuts from Hazel Blue Acres are featured throughout the Resort's restaurants this November. What makes Hazel Blue Acres hazelnuts so special? These nuts originate at a local family farm in Silvana, Washington, near the Stillaguamish River. Tulalip's commitment to curating top local ingredients in all of their dishes is highlighted with this special partnership with Hazel Blue Acres.
Washington state natives Karen and Spencer Fuentes have meticulously worked for 11 years with their hazelnut trees to successfully achieve today's sought-after, top-quality hazelnut bounty. With the help of their three children, the Fuentes family is growing some of the best hazelnuts in Washington state, and arguably in the U.S.
"Hazelnuts have a rich, nutty flavor that lends itself to sweet and savory dishes alike, and can be used whole or ground" shares Executive Chef Perry Mascitti. "We are delighted to share their nutritiously delicious qualities with our guests; we can't wait!"
The Tulalip culinary team invites all dining guests to enjoy the following hazelnut-laced selections during "Chef's Hazelnut Holidays."
Blackfish Wild Salmon Grill and Bar's Chef David Buchanan loves using hazelnuts because they add a nice crunch and earthy flavor to his Shrimp Fritter appetizer. It features fried hazelnut crusted shrimp fritters served alongside a lemony tartar sauce and a petite cucumber salad. And to bring dinner to a close, try a piece of Chef Nikol Nakamura's Hazelnut Chocolate Bar with a chocolate cream and hazelnut caramel cream, which should not be missed.
Thinking of heading to Cedars Cafe for lunch or dinner? Chef Brent Clarkson will be serving his Cedars Hazelnut Chicken Sandwich, filled with fresh tomato, shredded lettuce, horseradish remoulade and hazelnut butter on a Northwest bruschetta brioche bun. The sandwich comes with a choice of French fries or house made kettle chips. This hazelnut special will be offered seven days a week during November from 11 am to 11 pm. For the sweet-tooth lover, indulge in the Hazelnut Pound Cake with smashed blackberries and sweet cream.
Join Chef Jeremy Taisey for Tula Bene Pastaria + Chophouse's Hazelnut Pappardelle tossed with a hazelnut ragout, pork, mushrooms, topped with a poached egg and fresh marjoram. And for a slice of the "la dolce vita" experience, guests can order the Gianduja Tart made with a chocolate and hazelnut biscotti crust, with a cacao nib and hazelnut tuile, milk chocolate sauce, whip cream and bananas brûlée.
For a quick bite, guests can enjoy the Carvery and Hotel Espresso On-The-Go's Hazelnut Chicken Salad with a roasted chicken breast, toasted Hazel Blue Acres hazelnuts, red grapes, craisins, and red grapes on a bed of crisp bibb lettuce.
As part of the Chef's Hazelnut Holidays, Eagles Buffet will be sharing their signature Tricolor Cheese Tortellini tossed with roasted hazelnuts and a cream sauce infused with fresh sage, shallots and garlic, which is part of the daily buffet offerings. For menu information and pricing, visit here.
At The Draft Sports Bar and Grill, it's all about the Hazelnut Encrusted Pork Belly. Chef Susan is preparing tender pork belly bites coated in crushed hazelnuts and fried to a golden brown and served with a sweet and spicy honey sambal dipping sauce.
Tulalip's Blazing Paddles Stone Fired Pizza and Spirits restaurant is also getting in on the nut-crazed promotion! Blazing Paddles will offer a Hazelnut Peach Streusel Dessert Pizza topped with a house-made cinnamon streusel on a pizza crust dressed with chopped hazelnuts, peaches and a caramel sauce.
The Tulalip culinary team extends an invitation for everyone to come experience their "Chef's Hazelnut Holidays" for this limited engagement. For more information, visit tulalipresort.com.
# # # #
About Tulalip Resort Casino
Award-winning Tulalip Resort Casino is the most distinctive gaming, dining, meeting, entertainment and shopping destination in Washington state. The AAA Four Diamond resort's world-class amenities have ensured its place on the Condé Nast Traveler Gold and Traveler Top 100 Resorts lists. The property includes 192,000 square feet of gaming excitement; a luxury hotel featuring 370 guest rooms and suites; 30,000 square feet of premier meeting, convention and wedding space; the full-service T Spa; and eight dining venues, which includes the highly acclaimed Blackfish Wild Salmon Grill and Bar and the recently added Tula Bene Pastaria + Chophouse. It also showcases the intimate Canoes Cabaret; a 3,000-seat amphitheater. Nearby, find the Hibulb Cultural Center and Natural History Preserve, Cabela's; and Seattle Premium Outlets, featuring more than 122 name brand retail discount shops. The Resort Casino is conveniently located between Seattle and Vancouver, B.C. just off Interstate-5 at exit 200. It is an enterprise of the Tulalip Tribes. For reservations, please call 1.888.272.1111. Connect with us on Facebook, Twitter, and Instagram.
Allan Aquila & Associates, LLC.
Public Relations