RALEIGH, N.C., Sept. 6, 2018 /PRNewswire/ — Undercover Colors (UC), a diagnostics company specializing in the evolution of lateral flow technology, today launched its first commercial product, an accurate, highly versatile, portable test that empowers men and women to test their drinks for signs of drug spiking. Available for purchase starting today, UC's test, works in the greatest variety of liquids with final results displayed in an average of 60 seconds. If someone is feeling uncomfortable or suspicious about their beverage, for any reason, UC's test can provide clarification and peace of mind.
Socializing and dating introduce a variety of unfamiliar and ambiguous situations. According to a study by the U.S. Department of Justice drug-facilitated sexual assault (DFSA) and sexual assault while incapacitated and unable to provide consent, is a widespread problem affecting nearly 1 in 10 women. A 2016 study in the Psychology of Violence Journal found that more than 1 in 13 students reported being drugged and 1.4 percent reported incidents of drugging someone. Men are not safeguarded against risk either, with a separate study conducted by PLOS indicating that 12.5 percent of men have reported incidence of sexual assault.
UC's test is not a silver bullet against sexual assault, however, it can provide reliable, science-based clarity that helps consumers make informed decisions for their personal safety—and the safety of others. "Protection is not acceptance," says Barbara Cook, CEO of Undercover Colors. "Drugging someone's drink without their knowledge is a crime. But that doesn't stop it from happening at colleges, bars, nightclubs, and hotels around the world. While we know the UC test doesn't solve the issue of sexual assault, we feel strongly that our science is a tool that can be used to promote safety. We're responding to the real challenges of today by empowering people with information while pushing for a future where these types of crimes don't happen."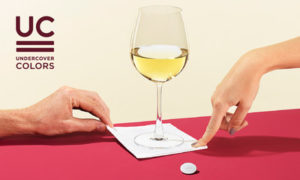 UC's tests are discreet, quick, effective, versatile, gender-neutral and work in over 100 liquids – this includes both non-alcoholic and alcoholic beverages such as juice, mixed drinks, beer, wine and liquors. It is designed as a small, one-inch in diameter, medallion that can be discreetly carried in personal items such as pockets, wallets and purses. When ready to test, the user peels back a foil cover to reveal the small test 'window.' Testers then use their finger to place a drop of their beverage onto the indicated liquid area. Processing time varies based on the liquid, and results can start to be visible in as quick as 30 seconds. Two pink lines indicate the beverage is safe, one pink line indicates a drug has been detected. There is a 'key' on the face of the UC test medallion that helps the user determine if the drink is "bad" or "good."
"It's unacceptable that there has not been more progress in combatting drug facilitated sexual assault until today. While there's an increased awareness around the prevalence of this crime, drink tampering is not a new problem – my own mother is a survivor from over 50 years ago," says Mike Hockenberry, investor and vice chairman of Undercover Colors. "Undercover Colors' test is a landmark moment for both science and personal safety. They have taken lateral flow technology, the same approach which has been trusted by doctors and scientists for accurate testing for pregnancy, HIV and many others, in a clinical environment for decades, evolved it and put it directly the hands of consumers who can tackle a global problem head on.  While it is not the final solution to eradicating DFSA, we believe that the UC test is a significant step forward for self-empowerment and personal safety."
Four years in the making, Undercover Colors now has two patents granted in the U.S. for its miniaturized lateral flow technology test strip, the smallest form factor in the world, and two more U.S. and four more International patents pending. These advancements allow anyone to test their drink any time.
Key features of the UC test include:
Greatest Breadth: Detects commonly used drugs for spiking drinks in the greatest number of beverages. Drugs that the UC test can detect include widely recognized names such as Flunitrazepam ("Roofies"), Alprazolam (Xanax) and Diazepam (Valium), as well as Midazolam (Versed), Oxazepam (Serax), and Temazepam (Restoril).
Highest Sensitivity: On average only requires 1/4th of the dose of the drug to be detectable.
Fastest Results: Results generally start to appear in less than 60 seconds.
Most Reliable: Assay reliability and confidence is greater than any presumed competitors with over 99 percent reliability supported by over 8,500 medallions tested.
UC tests are available for purchase now. The Starter kit for $34.99 includes five single-use tests and four free carriers—two key fobs and two adhesive holders. These custom carriers, a value of $9.99, are available for free for a limited time only, and fit seamlessly into the user's lifestyle, enabling the tests to attach key rings, smartphones and more. Additionally, UC provides a refill pack of 10 single-use tests for $49.99.
For more information on the company and the UC test, please visit the website at www.undercovercolors.com.
About Undercover Colors
Undercover Colors is a diagnostics company that is evolving lateral flow technology to make it faster, simpler, smaller and consumer-friendly. The company's first commercial product brings its users and their loved ones peace of mind that they are better protected against Drug Facilitated Sexual Assault (DFSA). The UC Test is an accurate, highly versatile, portable test that empowers men and women to test their drinks for signs of drug tampering. With just one drop, Undercover Colors' technology detects the presence of commonly used date rape drugs in the greatest variety of liquids, starting in less than a minute. Designed as a small medallion, the UC test can be discreetly carried in personal items such as pockets, wallets and purses. Undercover Colors, founded in 2014, is based in Raleigh, North Carolinaand holds two patents in the U.S. for its miniaturized lateral flow technology test strip, the smallest form factor in the world. www.undercovercolors.com
SOURCE Undercover Colors
CONTACT: For media inquiries, or to request samples for media use, please contact Kimberly Angell of Wish Public Relations at kim.angell@wishpr.com or (415) 471-7272.