Charles Smith Wines Jet City Opens in Seattle
Historic Georgetown Neighborhood Now Home to the West Coast's Largest Urban Winery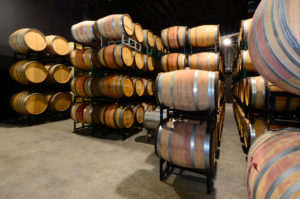 Winemaker Charles Smith announces the opening of Charles Smith Wines Jet City in the Georgetown neighborhood of Seattle. Encompassing more than 32,000 square feet in a space that was formerly a Dr. Pepper bottling plant, Charles Smith Wines Jet City stands as the largest urban winery on the West Coast.
Food & Wine and Wine Enthusiast magazines have named Charles Smith global winemaker of the year and Charles Smith Wines is the largest independent winemaker-owned winery in Washington state. It is in his nature to do everything big, so it's no surprise that this self-taught winemaker and industry pioneer has built the West Coast's largest urban winery.
"Yes, I wanted it to be big and loud and rock n' roll," said Charles Smith. "Is this a restaurant? No. But will we have amazing dinners here? Yes. Is this a concert venue? No. But will we have great bands play live shows here? Yes. This is a space for people that want to be a part of the winemaking experience while enjoying a glass of wine in one of the most original neighborhoods in Seattle."
The wines of Charles Smith's acclaimed brands will be produced at the Jet City winery and poured in the two tasting rooms. The first-floor lounge has a rustic, Northwest design, and the expansive second-floor tasting room features an early '60s, aviation vibe. A 21-foot wall of windows looks out over the runways of Boeing Field, while a second set of windows allows guests to view the winemaking.
"With wine, we talk so much about the 'terroir,' about the soil in which the grapes grow," Smith said. "In the same sense, I wanted Jet City to be connected to the fabric of Georgetown, to celebrate that proud history of manufacturing and aviation in our region. Wine has a history just like Georgetown. It's the past, it's now, it's forever."
Charles Smith collaborated with noted architect Tom Kundig, of Olson Kundig Architects, and local contractor Foushée & Associates to achieve his vision of a space connected to the industrial heritage of Georgetown.
Charles Smith Wines Jet City will open to the public on Saturday, July 25, and subsequently be open from 10am to 6pm every Wednesday through Sunday.
About Charles Smith Wines
Charles Smith, owner and winemaker of K Vintners, Charles Smith Wines, ViNO, Secco Italian Bubbles, SIXTO, Wines of Substance and one half of Charles & Charles, is based in Walla Walla, Wash. He has earned global acclaim including "Winemaker of the Year" by Wine Enthusiast (in 2014), Food & Wine magazine (in 2009) and by Seattle magazine (in 2010). Charles Smith has received a total of 80 scores of 95 points and above, and over 400 scores of 90 points and above, from the leading wine publications (Wine Advocate, Wine Spectator, Wine Enthusiast, Wine & Spirits). Charles Smith Wines are sold in all 50 states and 18 countries worldwide.
# # #