The Sound of Enhanced Flavors: Vinturi® Offers Alternative to Traditional
Wine and Spirits Decanting
Vinturi®, the original wine and spirits aerator, has been transforming the industry of wine and spirits accessories since its invention in 2007. Unlike other decanting methods, Vinturi's patented design offers a way to aerate wine and spirits in the same amount of time it takes to pour a glass, instantly providing enhanced flavors and a smoother finish.
Other manufacturers have tried to replicate the aerator's unique design, but only authentic Vinturi products are proven to deliver enhanced wines immediately. Consumers can enjoy and share superior wines that taste as if they were decanted, traditionally, for hours.
"Vinturi's patented technologies, that have made it a market-leader in the area of wine and spirits accessories, are challenging the conventional idea of decanting and allowing us to look at wine and spirits aeration differently," said Marc Navarre, President and Chief Executive Officer, Focus Products Group, LLC (parent company of Vinturi). "We recognize that, in today's fast-paced society, time is a luxury, and there is no reason why busy consumers can't still enjoy wine and spirits in their best form—Vinturi makes that possible."
The Science Behind Aeration
Vinturi's patented aeration technology is based on the "Venturi Effect": a scientific principle showing that when liquid flows from a wide area to a narrow area, it speeds up, causing a significant change in pressure. Vinturi aerators draw air into wine and spirits through tiny holes as the liquids speed up in a narrowed section; making a distinct sound. This signature sound is generated by the vortex that is created as air meets liquid; confirming the unique and powerful aeration delivered by only by a genuine Vinturi product.
 During the initial manufacturing stages, the Vinturi team discovered that if any of an aerator's measurements were off by more than five one-thousandths of an inch, the full aeration process did not take place. For this reason, every Vinturi is now individually made and tested; to ensure that it aerates perfectly. Vinturi aerators are composed of a food-grade material that safe for use with alcohol.
An Aerator for Everyone
Vinturi products range in price from $29.99 for individual Red and White Wine Aerators, to $59.99 for the Reserve Red Wine Aerator & Carafe Set. The full product assortment can be found online at Vinturi.com or at a variety of specialty retailers, including Williams-Sonoma, Bed, Bath and Beyond and Crate & Barrel. Additional information can be found in the links below: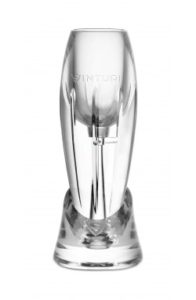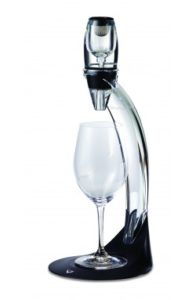 About Vinturi®
Vinturi® masters the centuries-old tradition of wine and spirit aeration. Unlike traditional decanting methods, Vinturi's patented design draws air into liquids as they are poured through the aerator; creating a unique and unmistakable sound while speeding up the aeration process.  This process instantly enhances flavors and delivers a smooth finish to wine and spirits.  Since its creation in 2007, Vinturi has transformed the industry of wine and spirit accessories; offering a variety of aerators for red and white wines, as well as a variety of spirits. Vinturi products can be found online at vinturi.com or at a variety of specialty retailers, including Williams-Sonoma, Bed, Bath and Beyond and Crate & Barrel.  Follow us on Facebook, Twitter, Pinterest and YouTube.
Vinturi is a brand of Focus Products Group International, LLC, the leading supplier of consumer and professional housewares products for both the retail and hospitality marketplace.